This Capture One FAQ is a 10 minute read and answers your most urgent questions. Some answers contain links to other posts for a more in-depth view of the matter.Use this guide to quickly resolve the most urgent matters. Get on with Capture One FAQ!
Capture One FAQ
There are a number of issues that many users of Capture One run into. Therefore it is time for a Capture One FAQ or Capture One Frequently Asked Questions!
This post lists the most common questions I am aware of and provides answers. I will keep it short and may direct you to another post for more help.
#1-Can I Import From Connected Camera?
Q: When I connect my camera I can not import my images stored on its memory card, although my camera is shown as connected.
A: In general, Capture One does not import from the card in the camera. You need a card reader for that. Capture One uses the connection to the camera exclusively for tethered shooting. For more on importing read Importing Images Into Capture One.
Exceptions exist to this rule. My Sony A7 series camera can mimic a card reader and act as a mass storage device. I need to switch it back to PC Remote to allow tethered shooting.
#2-How To Process Multiple Images At Once?
Q: When I select a number of images to process, move or delete, only one image is processed (moved, deleted). Can Capture One act on the entire selection at once?
A: Yes. Look in the Edit menu for the feature Edit All Selected Variants and enabled it. You can also access the feature from the Toolbar (triple rectangle symbol) and via a shortcut key. For more read Capture One Variants.
#3-Can I Save To Memory Card When Tethering?
Q: When I shoot tethered, can I also save the image to the memory card in the camera?
A: In general, no. When you shoot tethered Capture One does not use the memory card. Reason: saving to card is considerably slowing down the image transfer to the computer. For best results, use an empty memory card or no card at all if the camera supports shooting without.
A few cameras have the ability to save to card during tethered shooting. Examples are Sony A7 III/A7R III/A9 and some Fujifilm cameras.
In addition use sync software on the computer to create backups on the fly. For more on tethering read Capture One Tethering Explained.
#4-Is The Trial Feature Limited?
Q: I run Capture One Pro during the 30-day trial period. Sometimes tools do not seem to work. Does the trial also limits functionality?
A: No, the trial is fully functional during the trial period. Make sure you run the Pro/Pro Fujifilm/Pro Sony trial. Do not accidentally run as Capture One DB. Check the status from the About screen. For more on different running modes please read Capture One Modes.
Your question not answered yet? Read on in the Capture One FAQ.
#5-All Tools Are Greyed Out Or Have An Eye-Icon Or Crossed Pencil. Why?
Q: Since and update/upgrade all Tools are greyed out and I can not edit any image. The thumbnails show an eye-icon or crossed pencil. Where does this limitation comes from?
A: This can have several causes. Most often Capture One does not run as Pro. Other modes with limited file support are DB, Pro (for Sony) and Express (for Sony). Check the About screen. In Capture One Modes you find instructions to change the mode into Capture One Pro.
Another cause is that you view images in the Trash collection. Editing is not enabled here. Also very small and large files are not editable. And last, in macOS, you can not edit images on a memory card from your camera. You need to import first.
#6-My Trial Expired. Can I Ever Run A Trial Again?
Q: I ran a trial of Capture One in the past which has expired. Now there is a new version I like to try out. Can I run the trial again?
A: Yes. Capture One resets the trial counter with each major upgrade (for example from 10.x to 11.x) and each point update (from 11.0 to 11.1). Download and install the latest release and enjoy a new 30-days trial period. Note that a maintenance update (from 11.0 to 11.0.1) does not reset the trial counter.
#7-Some Images Are Cropped Automatically
Q: After import some images have a slight crop (some more the others) that I can not remove. Why is that and how can I avoid that?

A: The is due to automatic lens correction, which hides distorted areas. To change this behaviour go to the Lens Correction tool and open the action menu (3 dots top right). Select Disable Default Lens Correction. Note that this setting affects new imports only, not existing images. For existing images set the Distortion slider to zero (0).
#8-Can I Send A Raw File With Edits To Another Computer?
Q: I like to send some RAW files with Capture One edits to somebody else to work on it with Capture One. Must I send an entire Session or Catalog?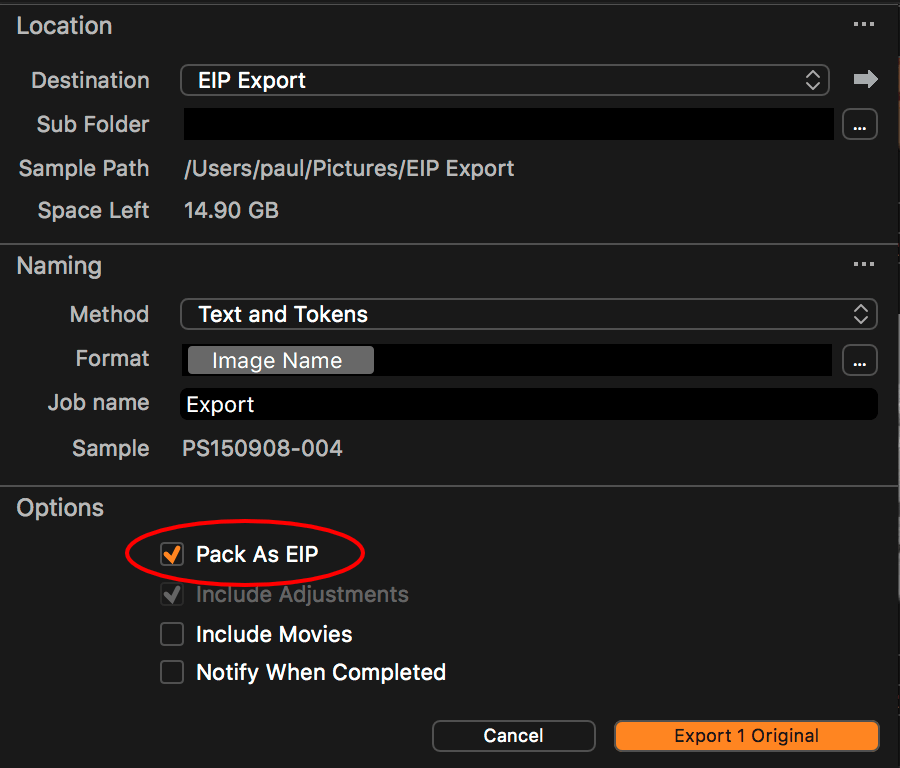 A: Select your image(s), go to File menu > Export Images > Originals and under Options mark Pack As EIP. More on Export please read Capture One Export.
Your question not answered yet? Read on in the Capture One FAQ.
#9-Does Capture One Support DNG Files?
Q: Does Capture One support DNG files, and if yes, fully or limited?
A: Yes, Capture One Pro supports DNG files in several ways. Mind the difference between native DNG (straight out of camera) and converted DNG (non-DNG format converted into DNG).
Capture One Pro fully supports native DNG files as any other RAW file format (for example CR2, NEF, IIQ). Capture One Pro also fully supports converted DNG files that include the original RAW file.
A converted DNG file without the original RAW file is also supported but with some limitations. A generic DNG profile is used. Note that a camera must be supported in its native format to be supported as a converted DNG file.
Please note that Capture One Pro does not support RAW files from other medium format cameras that are converted to DNG.
#10-Any Important Preference Settings?
Q: What settings in Preferences do I need to setup? Are there important Preference settings I should know off?
A: All default Preference settings are fine for 80% of users.
In case you have a high density display (4K or 5K) you should review the Preview Image Size on the Image tab, Cache section. The default 2880 px might not be sufficient and an increase to 3840 or 5120 px is advised. For more on Preferences please read Capture One Preferences.

In addition, if you work with Catalogs, please set your backup reminder to Always or Once a day on the General tab, Catalog Backup section.
#11-How To Rename Or Delete A Session Or Catalog?
Q: How do I rename or delete a Session or Catalog?
A: Close the Session or Catalog (a.k.a. document) or close Capture One. Go to Finder (macOS) or Explorer (Windows), locate the document, and rename or delete it. After renaming, open Capture One and locate the document with the Open command the first time instead of the Open Recent command.
#12-Can I Browse Images Without Import?
Q: In Capture One can I browse a folder with images without importing?
A: From a Session, yes. Go in the Library tool to the System Folder section and browse to the folder with images.
From a Catalog, no. A Catalog needs an import to show you the images. For more on Sessions please read Sessions Explained and for more on Catalogs please refer to Catalogs Explained.
#13-What Is The Purpose Of The CaptureOne Subfolder?
Q: Where is the CaptureOne subfolder inside my images folder for?
A: The CaptureOne subfolder contains sidecar files that Capture One uses for two purposes: preview and thumbnail files (Cache folder) and setting files (Settings folder).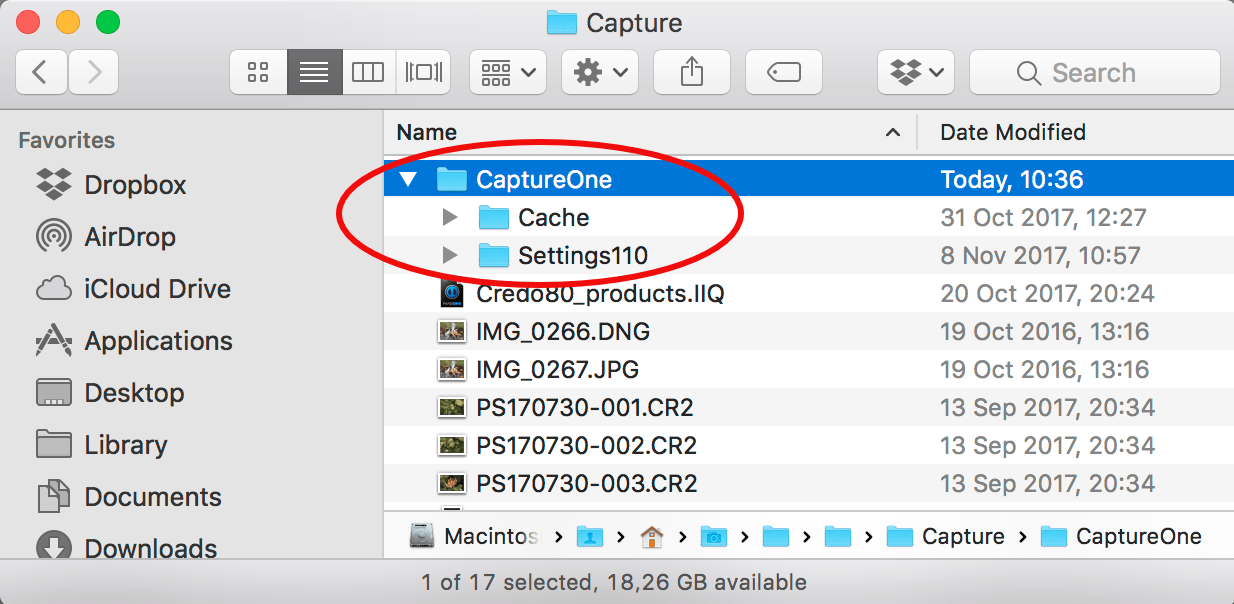 For more on Sessions please read Sessions Explained.
Note that Capture One never write to your original files but stores every adjustment in a sidecar file, when working with Sessions. A Catalog stores the adjustments in the central Catalog database.
#14-My Workspace Unintentionally Changed. How Do I Get It Back?
Q: I miss a Tool or Tool Tab. I may have accidentally removed it. How do I get it back?
A: Go to Window menu > Workspace. Select your Workspace or the Default Workspace. For more on Workspaces please read Capture One Workspaces.
#15-Can I Use Capture One On More Computers?
Q: On how many computers can I use Capture One Pro?
A: A perpetual single-user license of Capture One Pro is good for three activations, a perpetual license of Capture One Pro Fujifilm or Sony comes with two activations. Single-user subscriptions provide two activations.
You can transfer activations from one to another computer. Read about activations in Activating Capture One Pro.
#16-Can I start Capture One without a Session or Catalog?
Q: Can I start Capture One without automatically opening any Session or Catalog?
A: Yes. By default the program starts as it has ended when you closed it. It opens with your last document (Session or Catalog).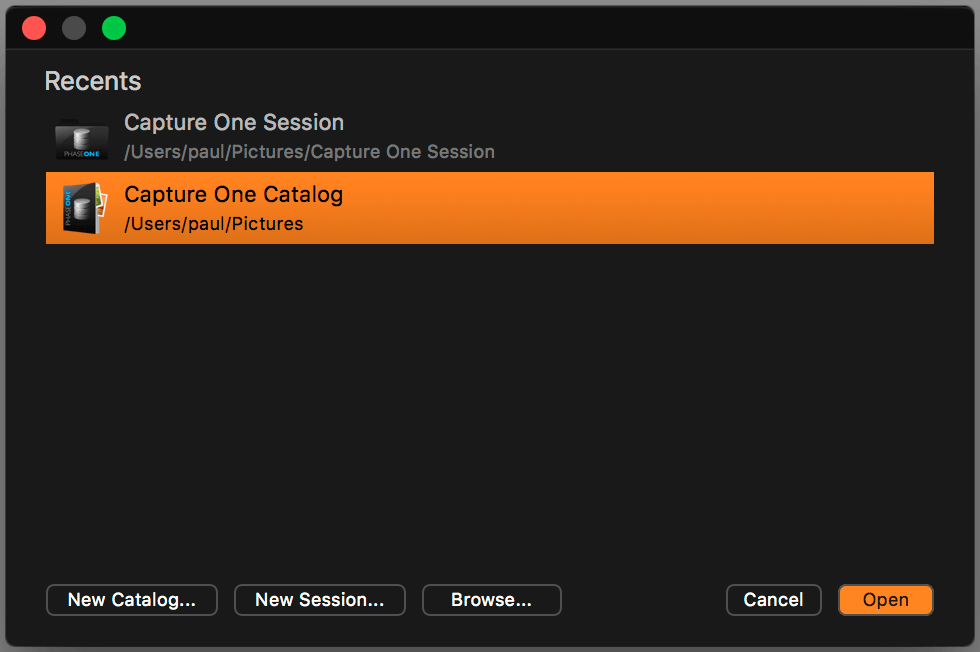 During program startup press the Option-key (macOS) or Shift-key (Windows). It starts clean with the Recents dialog. Now you can browse to open a Session/Catalog or create one new. You can also verify a catalog via the File menu.
This clean startup is also a great help when you have a document that crashes Capture One on opening.
Your Question?
Have you still an unanswered question in the Capture One FAQ that should be on this list? Let me know in the comments below. Thank you!
Thank you
For reading. Please feel free to leave a comment. Like us on Facebook or subscribe to our newsletter to stay informed about new blogs.
Want to try Capture One? Or would you like to buy it?
Best Regards,
Image Alchemist
https://imagealchemist.net/wp-content/uploads/2018/03/FirstAidHelicopter-3000px.jpg
2250
3000
Image Alchemist
https://imagealchemist.net/wp-content/uploads/2016/03/IA-logo-full-340x156.png
Image Alchemist
2018-03-20 08:00:06
2020-03-31 14:14:46
Capture One FAQ