Capture One Pro 9.1 strives to improve on your workflow in general and tethering in particular. Selection features, rotation in live view and tethering enhancements are some of the improvements. In addition, this release coincides with the XF Camera System Feature Update #2, which adds the Sequence ID option. Enjoy the Capture One Pro 9.1 review.
Capture One Pro 9.1 Review
The Capture One Pro 9.1 update is also a maintenance update which means that support for camera raw file formats and lenses is extended. Added are nine raw file formats from Olympus, Panasonic, Pentax, Ricoh, Sony (the RX1R Mk II is a revised implementation), and Leica.
In addition ten new lenses are added to the lens correction database with lenses from Nikon, Sigma, Carl Zeiss, Panasonic, and Sony.
You can find the details in the release notes from the Phase One download page.
Under The Hood
Many under the hood improvements are made and known bugs fixed. Your benefit is that there are no changes in your workflow but you get a faster and more stable experience in terms of operations. The Library has been overhauled to improve on stability and performance.
The built-in Canon supplied tethering software is now replaced by a new and modern engine made by Phase One itself and promises a faster and more stable workflow. Operation is the same, so no new tricks to learn!
Better Tethering
An example of the improved workflow in this release is the enhanced tethering features that are worth mentioning. Tethering is a core feature of Capture One Pro and something the software is well-known for. Hence, any development in that area deserves ample consideration.
Orientation
First to mention is the availability of rotation in Live View and in the Next Capture Adjustments tool.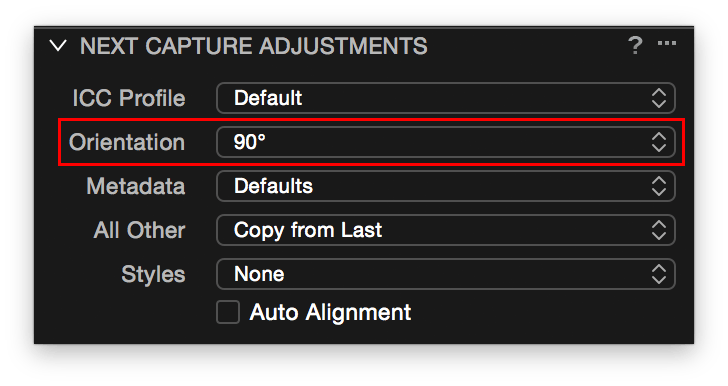 You can set this through the new Orientation option in 90-degree steps. This is great for shooting in an overhead position. This also means that the Next Capture Adjustments tool now applies the Orientation setting to all incoming images once you have set it up.
Metadata
That same Next Capture Adjustments tool now has a new field to copy Metadata from a previous shot.
In addition, when copying Metadata you have two additional Copy specific options to select which metadata to prolongate to the next incoming image.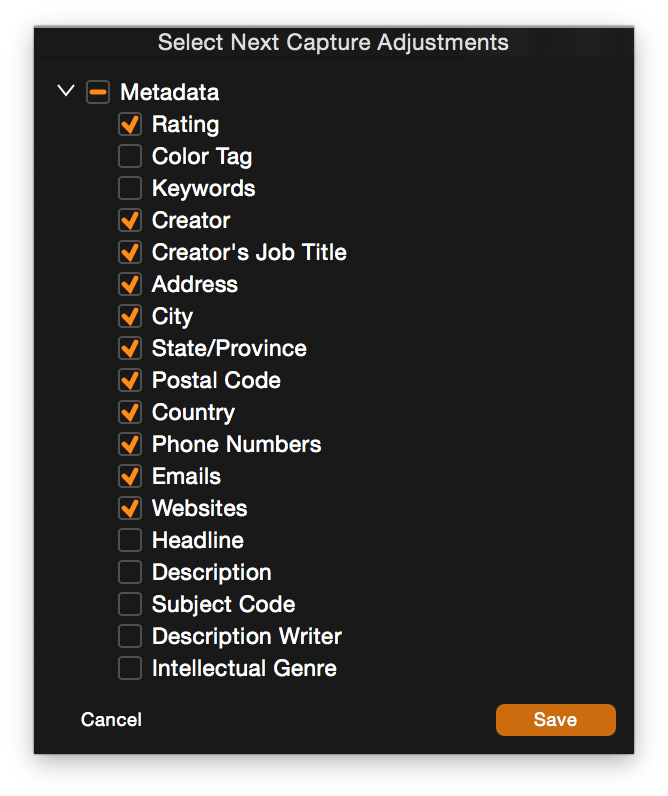 You achieve this by choosing from a list of options as you see in the screenshot above.
All Other
Copying adjustments in general through the All Other field now also has two Copy specific options as Metadata has. The advantage is that you are free to copy all adjustments (crop, vignette, clarity for example) or only some of them.
Styles
Last but not least, applying styles and presets during tethering is now set in a separate field, making it easier to handle.
Canon
Add to this list the self-made Canon tethering engine – replacing Canon's own not-so-happy-with Software Development Kit or SDK – and you can easily conclude that Capture One Pro 9.1 is a big step forward for tethered shooters.
Menus And Shortcuts
Whether you are a mouse-loving type of computer user or a keyboard aficionado, Capture One Pro 9.1 has some news for you: new menu items and new shortcuts. Of course you can assign shortcuts to any (new) menu items but this release adds shortcuts to actions that are not in any menu.
Menus
New menu items can be found in the Edit menu. There is one selection feature, and one for resetting counters.
Edit menu > Select By > Rating / Color Tag
I will discuss this with other new selection features below.
Edit menu > Counters > Reset <name> Counter
There are five different counters to reset individually: Import, Capture, Rename, Output, and Export. Note that the Decrement Capture Counter has moved here from the Camera menu.
Both the ability to reset these counters from the menu and the ability to use a shortcut are welcome improvements for the user's workflow.
Shortcuts
Keyboard shortcut lovers obviously know the Edit Keyboard Shortcut dialog in Capture One Pro. This dialog has received some love and now we have a few extra options. Examples are:
Invert Mask
Fill Mask
Select Next Layer (up)
Select Next Layer (down)
The image above shows where to find them in the Edit Keyboard Shortcut dialog. Scroll down to Other > Local Adjustments.
Selection Features
Capture One Pro 9.1 has some new selection features. They are about selecting images in the current collection. They work both in a session and a catalog. The three new features are named Select By, Select By Same, and Create Album From.
Select By
The Select By command in the Edit menu is not context-sensitive. It creates a selection either based on Rating or Color Tag. It works independent from the selection of images in the current collection.
This is a great option if you – for example – like to process all green-tagged images. But you can of course apply any action you had in mind after making the selection.
Select By Same
You can find both the Select By Same and Create Albums From commands in the contextual menu of the thumbnail browser. They work on the current selection and are as a result seen as context-sensitive.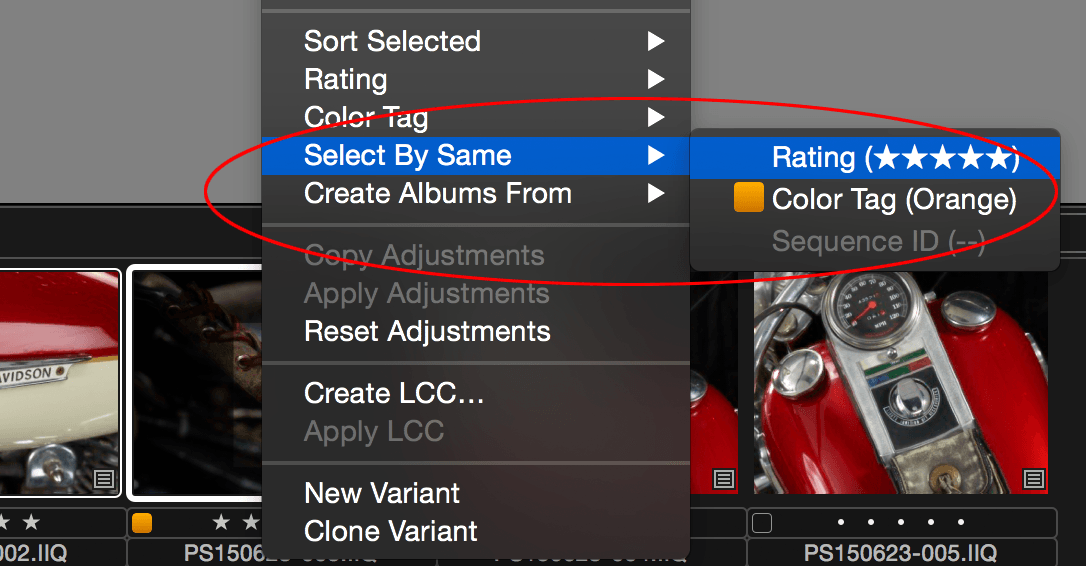 The Select By Same command allows you to select images with similar properties as the one your right-click on to open the context menu. Properties to select on are Rating, Color Tag, or Sequence ID. The Sequence ID is new and an exclusive for the Phase One XF camera (see below).
Create Albums From
The Create Albums From command works on the currently selected images. It creates albums for each value of the selected property. For example, you select all images in a collection. These images have various ratings. Next, you run the Create Albums From command and select Color Tag.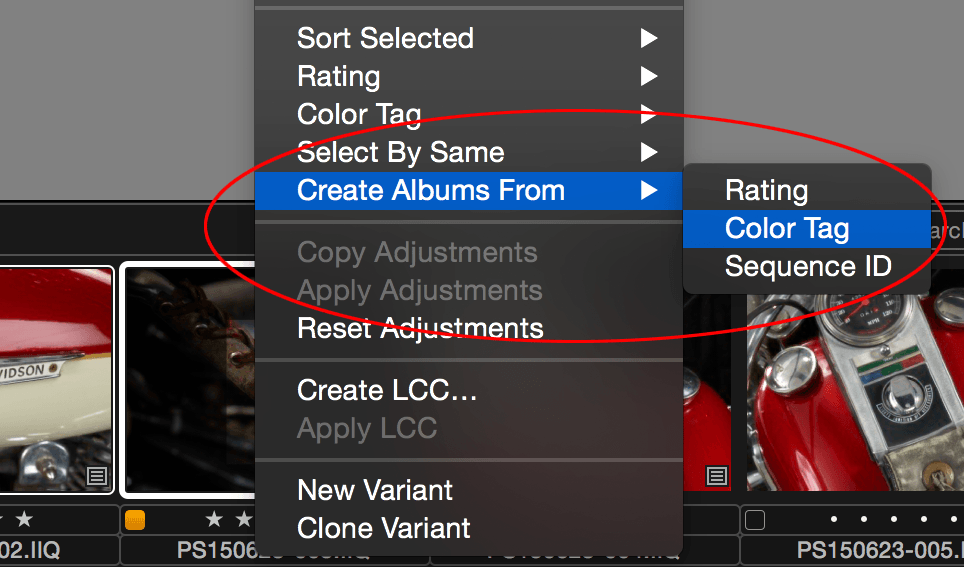 This will create albums for all ratings that apply and will put the images into these albums accordingly. Note that with a catalog the command creates a group like Color Tag <date time> and the albums are placed in that group under User Collections.
With sessions there are no group objects, hence you will see all albums in the Session Albums section of the Library.
Note that the Albums are not of the Smart Album type. In a catalog you can run the command again and a new group with albums is created. With sessions the albums do not reflect changes properly.
Keyword Restriction On Output
With Capture One Pro 9 the use of keywords was brought to a whole new level. Among others you can create Keyword Libraries to manage your keywords. But what if you do not want all your keywords end up in your output file? In this 9.1 release you select the Keyword Libraries whose keywords appear in the output file. The place to set this is in the Process Recipe > Metadata tab.
In the images below you see the difference between the Capture One Pro 9 and 9.1 version (before/after) of the Metadata tab in the Process Recipe tool.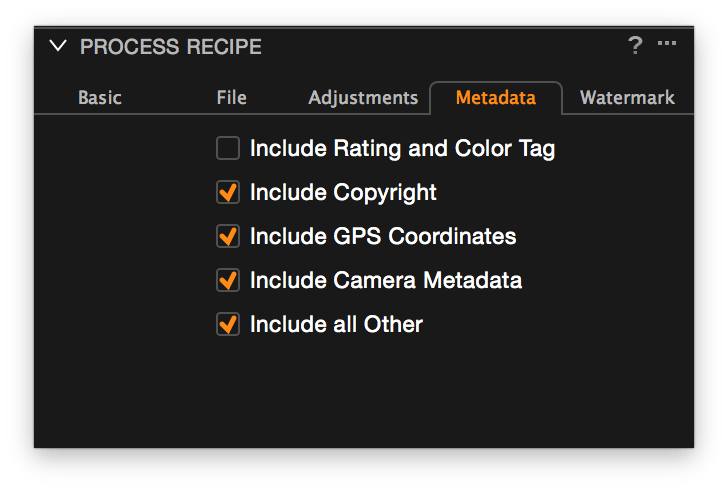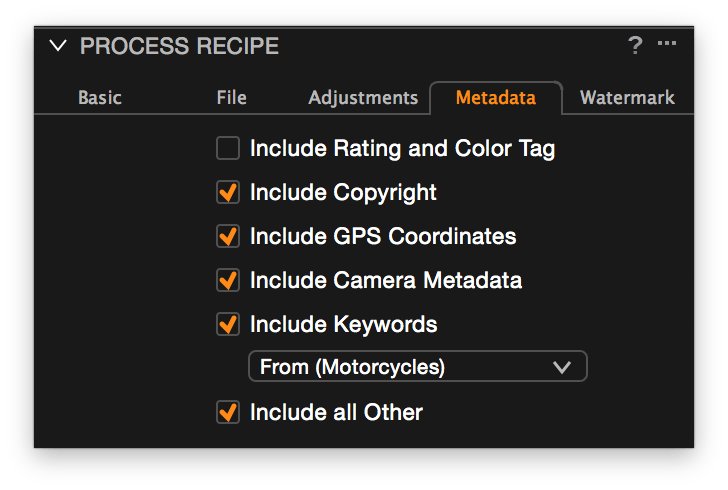 When you include Keywords, you can select All or select Keyword Libraries to include in the output. To accommodate this change, your Process Recipes, which resided in the Recipes82 subfolder are now moved and updated to the Recipes91 subfolder inside the Capture One's Application Support folder.
Color Editor Skin Tool
The Color Editor is already an impressive tool and it got a make-over in Capture One Pro 9. Now with 9.1 the Skin Tone editor got further refinements.
Uniformity
The Skin Tone editor is unique compared to its siblings in that it has a Uniformity adjustment, that the Advanced and Basic editor lack. The Uniformity setting brings colors closer to each other, making them more uniform. Before 9.1 this feature worked on Hue only. In other words, only the hue of the color was made more uniform, not the saturation or lightness. As you can see from the screenshot below, there are now distinct Uniformity adjustments possible for Hue, Saturation and Lightness. This both increases the amount of control over color as well as that it is more granular or fine-tuned at the same time.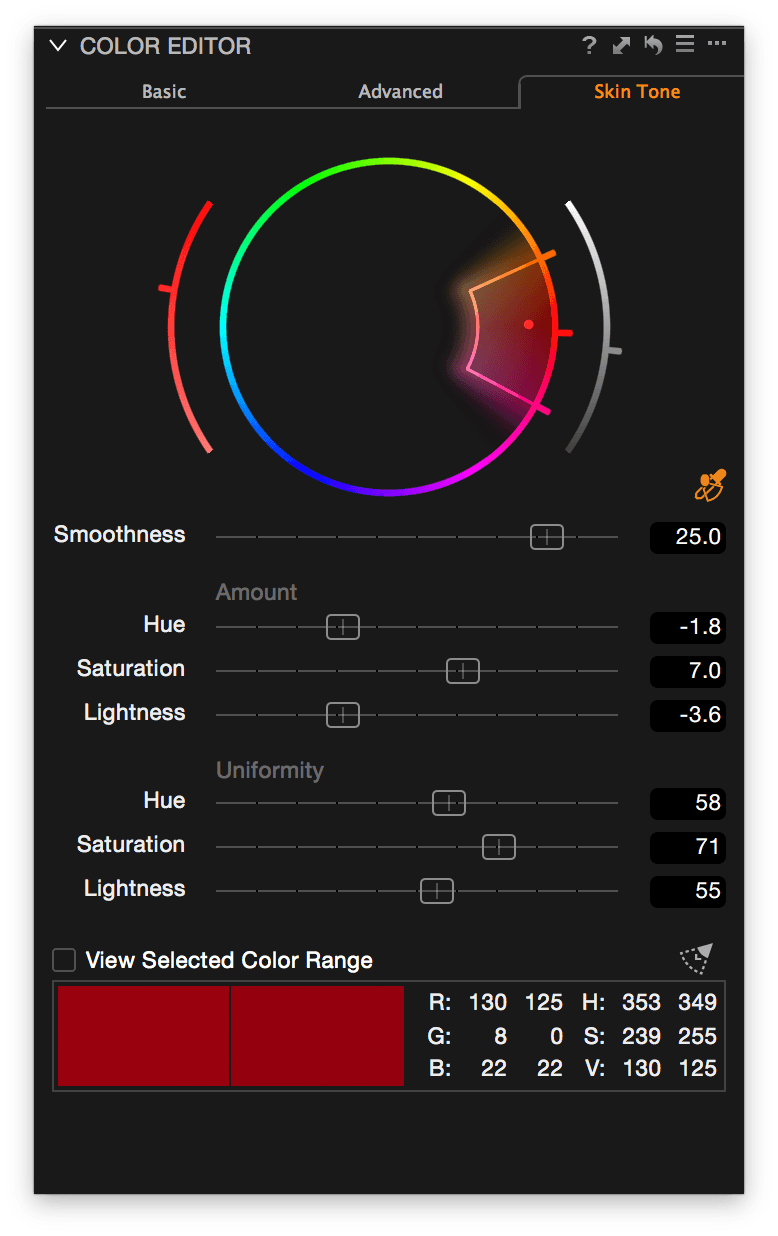 But that is not all.
Color Wheel
The Color Wheel is accompanied by a Saturation control at the left, and a Lightness control at the right. These have great similarity to the new color wheels in the Color Balance tool – new in Capture One Pro 8.2 – but these here work differently. These controls do not adjust the saturation or lightness – like with the Color Balance tool – but the point the Saturation and Lightness sliders of the editor work on.
To summarize, the version 9.1 Color Editor Skin Tone tool is extremely subtle and powerful at the same time.
Sequence ID
Together with Capture One Pro 9.1 release a Feature Update #2 for the Phase One XF camera came available. One of the features of this new firmware is the ability to capture in a sequence. Examples of a sequence that the XF with Feature Update #2 accommodate are time-lapse and HDR bracketing.
To identify a range of image as a single sequence, a Sequence ID is recorded as EXIF data in the raw file. Next, the Sequence ID is identified in Capture One 9.1 and can be used in the Filters tool, in Name Tokens, Dynamic Locations and for the creation of Albums.
More information about the Feature Update #2, time-lapse, HDR bracketing and more features like focus stacking, please visite the Phase One website.
Miscellaneous
Capture One Pro 9.1 now can open TIFF files with Alpha channels.
Other Reviews
There is also a review available of Capture One Pro 9 and one on the succeeding Capture One Pro 9.2.
Thank you
For reading. Please feel free to leave a comment. Like us on Facebook or subscribe to our newsletter to stay informed about new blogs.
Want to try Capture One? Or would you like to buy it?
Best Regards,
Image Alchemist
https://imagealchemist.net/wp-content/uploads/2016/03/Yak52AfterLanding-2060px.jpg
1545
2060
Image Alchemist
https://imagealchemist.net/wp-content/uploads/2016/03/IA-logo-full-340x156.png
Image Alchemist
2016-03-17 13:00:27
2020-03-31 21:51:33
Capture One Pro 9.1 Review