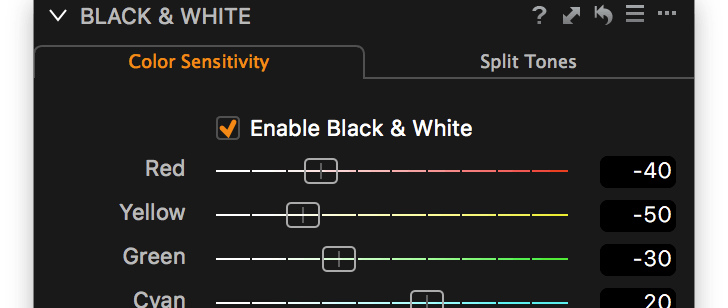 The full Capture One Black & White set contains 190 presets divided over 11 folders. The set covers all six sliders on the Color Sensitivity tab and all four sliders on the Split Tones tab.
Please note that this set of presets is also available as part of the larger Preset Collection Color, which contains presets for other tools as well.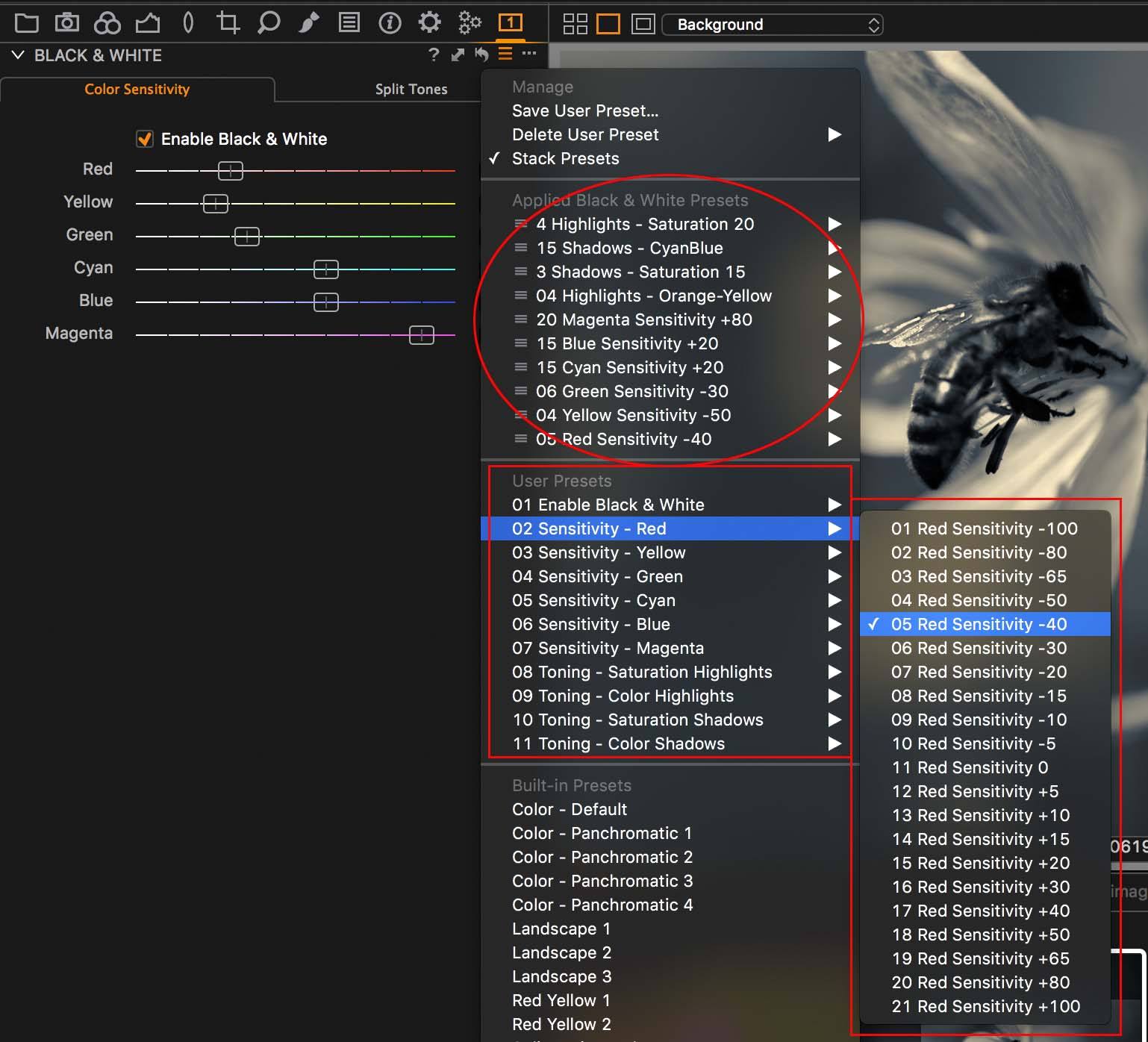 Compatibility
The presets are compatible with Capture One 8 or later on Mac and Windows. They might work with older versions but at your own risk. It is recommended to test with the free trial first.
Range
The Color Sensitivity presets each control a single color. As a result, you can combine presets for all six colors while being able to control each independently. The full range of -100 up to +100 is controlled in 21 steps per color.
The Split Toning presets can be used independently from the Color Sensitivity presets. Saturation and Hue are controlled individually for both Highlights and Shadows. The toning in controlled in 24 steps or a delta value of 15 in the 0-360 range.
Note that you must set a Saturation value before you control the Hue to see any effect on the image.
Warning
The presets in this set allow you to control each of the sliders independently. This is non-default behavior and is achieved by manually editing each preset. These enhancements work great on Mac and allow you to get the max out of this tool. Unfortunately, these enhancements are not yet supported on Capture One 8 and 9 on Windows. See Try First below.
Languages
The set contains all English, German, French, and Dutch presets.
Specs
Release date:
August 8, 2016
Last updated:
November 11, 2022
Current version:
1.0
Product type:
Capture One Preset
File format:
.zip
File size:
449 KB
Requirements:
Capture One 8 or later
Price:

$0.00

USD
https://imagealchemist.net/wp-content/uploads/2016/08/CO-MacR-BlackWhite-shop.png
308
728
Image Alchemist
https://imagealchemist.net/wp-content/uploads/2016/03/IA-logo-full-340x156.png
Image Alchemist
2016-08-08 08:00:14
2022-11-13 12:39:35
Capture One Black & White