Capture One offers two tools to manage keywords and many more to take advantage of them. If you are new to keywords then this is your starting point. In this second post in a series of five, you learn how to use the Keywords and Keyword Library tools, and the difference between a flat and hierarchical keyword list.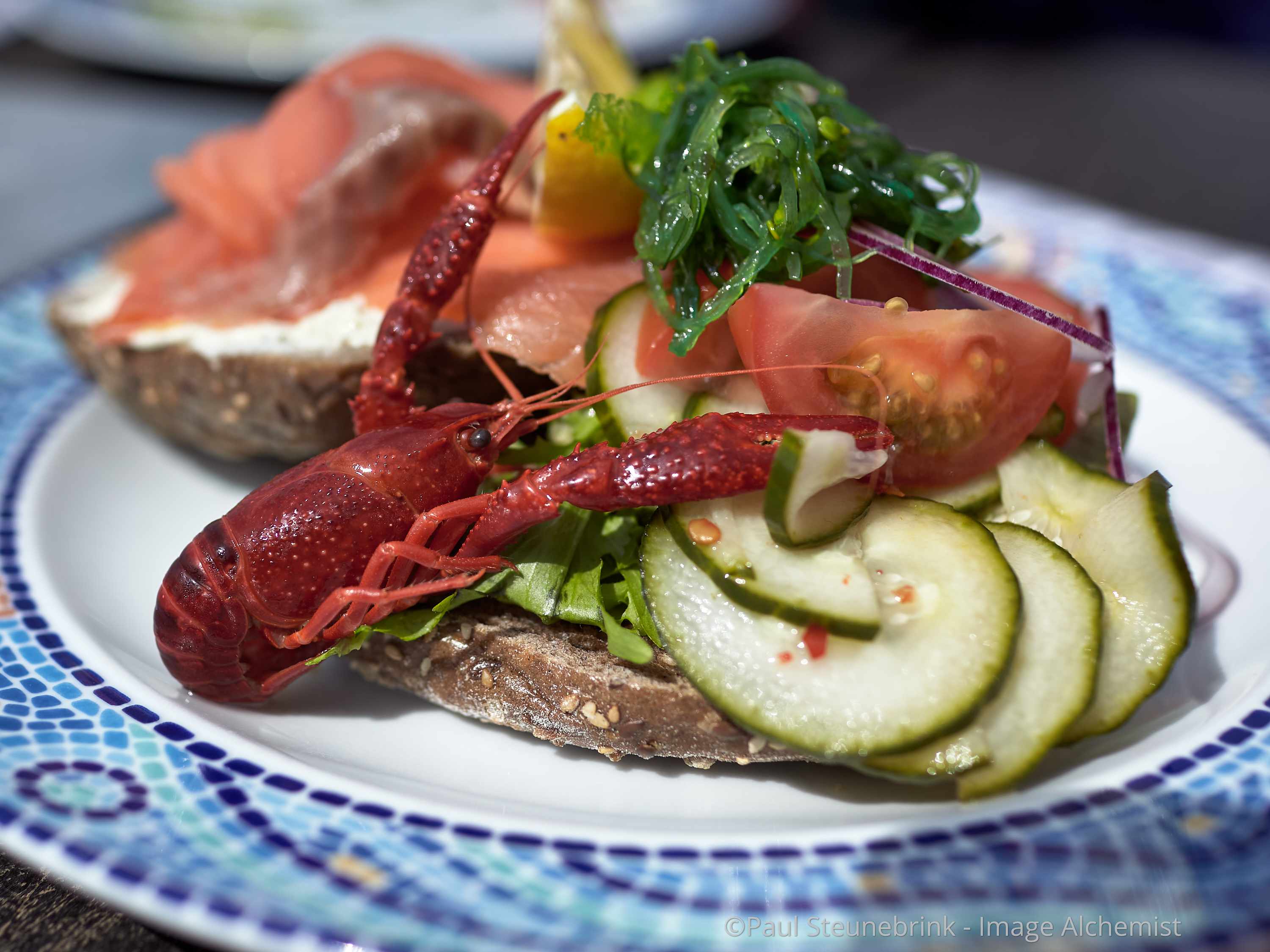 Using Keywords in Capture One
When talking about metadata, keywords are by far the most powerful, flexible, and efficient way to organize your images. You can apply keywords to a very detailed level, or keep it simple and straightforward.
Since Capture One 8, Capture One has a separate Keywords tool, as it was initially part of the Metadata tool, and a Keyword Library tool to manage your collection of keywords. We will take a look at both tools in this post, how they work, and what your best workflow is.
This is a long post, about twice the size of an average blog. There are countless details hidden in these tools, which I want to share with you.
Scope
This post continues where I left in Using Metadata in Capture One. As in this earlier post, I focus on using Capture One exclusively for your metadata workflow. In another post, I look into using other software for managing metadata in conjunction with Capture One.
More on Metadata
With this post, I focus on the user who is not yet using keywords. I explain the capabilities of Capture One in this area. I have planned consecutive posts on metadata to cover this vast area from different angles.
Two Questions
Before we dive into the tools that you use for keywording in Capture One, there are two items to consider.
First, where do you get your keywords? Do you collect them yourself, or do you buy them? Yes, you can purchase keyword collections. That makes sense if you are working in a specific field of photography, like landscape, architecture, automotive, animals, plants, insects, and so on.

If you use photography as a pleasant way to spend your free time and want to keep track of images of family events and travels, you can build your collection. At the same time, you add your family members and travel locations as a keyword in the photo.
Another and second question is whether you want a flat or hierarchical collection of keywords. For example, you love to travel and have seen quite some places on the globe. You could assign keywords to find images or a particular spot. Managing such a growing collection would quickly become hard to achieve without hierarchy.
In Capture One, you can use hierarchical keywords. I also cover that in this post.
The Keywords Tool
Let us take a closer look at the Keywords tool and discover how it works. You find it on the Metadata tool tab.
I go through the merits of this tool in two stages, with either one and with multiple variants selected. I start with non-hierarchical keywords and end with hierarchical keywords.
One Variant
With one image selected, you see the keywords for that image in the Keywords tool. You can easily add keywords in the Enter Keywords… space and press the Enter key.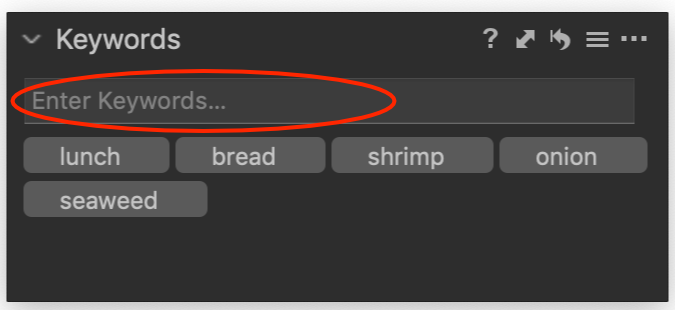 You can both rename and remove an applied keyword from within the Keywords tool. Hover your mouse over the keyword, and the 'x' symbol appears at the right on the keyword. Click on the 'x,' and you removed the keyword from the image.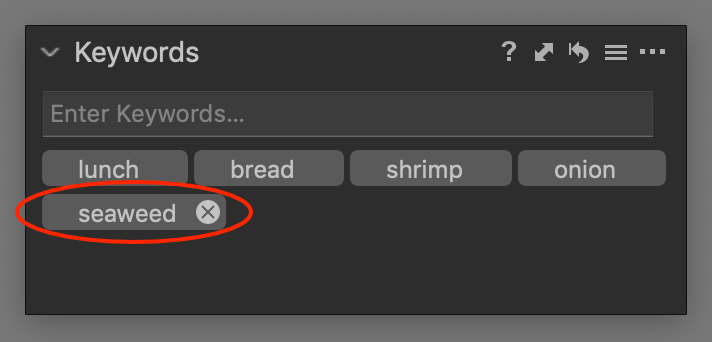 Right-clicking on the keyword gives you two options, Rename and Remove Selected Keywords. Mind the plural 'keywords'. With Cmd+click (Mac) or Ctrl+click (Windows), you can select multiple keywords for removal.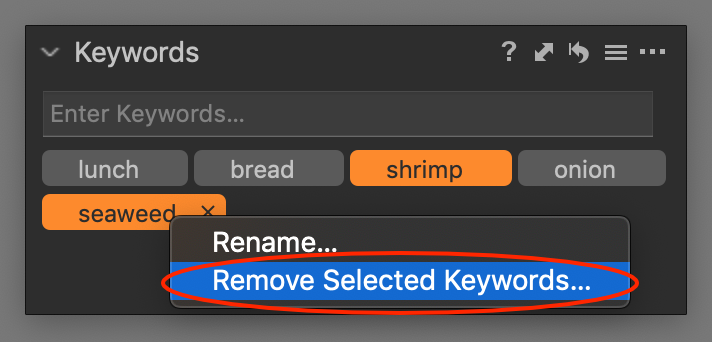 Note that you can manually change the order in which the keywords are displayed.
Multiple Variants
When you select multiple variants, please check the Edit All Selected Variants status from the toolbar or the Image menu. When switched off, the Keywords tool will act as if only one variant is selected, the Primary Variant. The concept of Variants in Capture One is explained in Capture One Variants.
Important note: in the following paragraphs, I assume Edit All Selected Variants is in the on position.
When you add a keyword, the Keyword tool applies it to all selected variants. Likewise, when you remove a keyword, it is removed from all selected variants. Note that the keyword may still exist in the Session or Catalog and you can assign it to other images.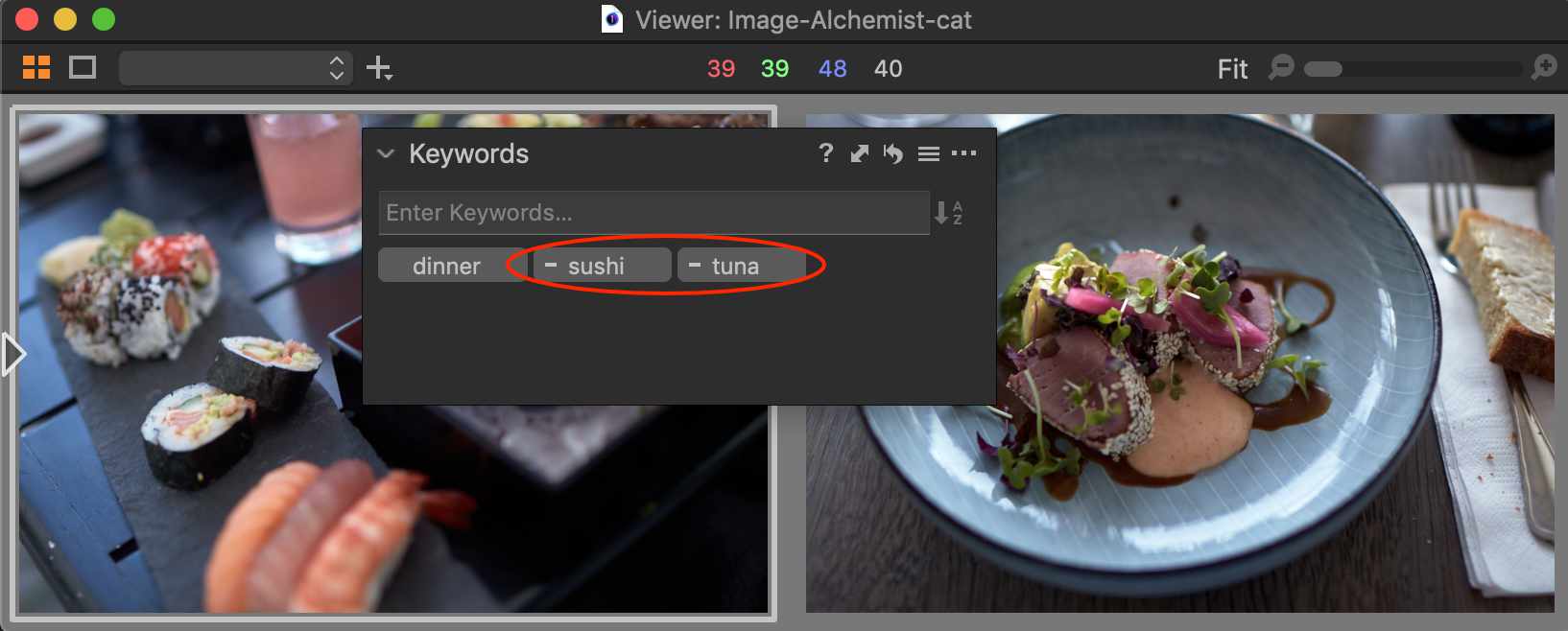 With multiple variants selected, the Keywords tool shows all keywords from the selected variants combined. When some of the keywords are not assigned to all selected variants, the Keywords tool displays a dash symbol at the left of the affected keywords.
In other words, the Keywords tool shows you the collection of all keywords of all selected variants and gives you an indication of which keywords are applied to all and which to a subset of your selection.
When you click on a keyword with a dash symbol, the Keywords tool assigns that keyword to all selected variants, and the dash symbol disappears.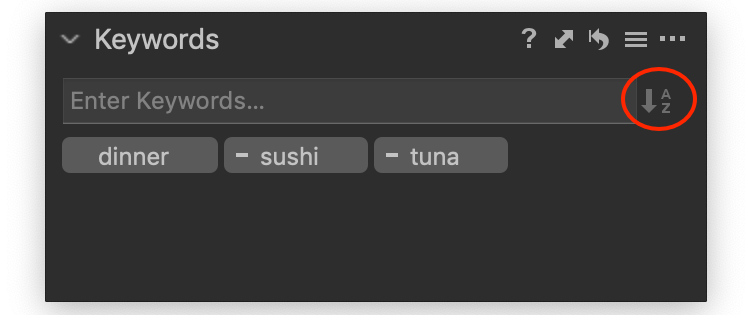 With multiple variants selected, the Keywords tool displays all keywords in alphabetical order. Now you can not change the order, as when one variant is selected. Notice the arrow with a-z in the tool to indicate this order.
Tip
You can use the Filters tool on the Library tool tab to add keywords to images.
The Filters tool displays the keywords of the images in the current collection. Apart from filtering on a specific keyword, you can drop-and-drag thumbnails onto the keyword of your choice in the Filters tool. Capture One will instantly apply that keyword to these images.
Hierarchical Keywords
To explain the difference between a flat and hierarchical list of keywords, I show you the following example. I use the Keyword Library tool, which I explain in the hereafter.
In a flat list, there is no hierarchy. Inside the list, the keywords are ordered alphabetically. Note that there is no relationship between keywords. An image of a door in a house gets two keywords, door, and house. A flat list works fine for smaller keyword libraries and less demanding applications.
In a hierarchical list, you can nest lower level keywords under a higher level parent keyword. This defines the relationship between keywords. When you apply a lower level keyword, like Paris, the entire hierarchy up to the parent – Earth – is also added at the same time.
A hierarchical list makes sense for both small and extensive keyword libraries. The hierarchy defines a relationship between keywords, adding extra information to your images.
Make a Keyword Hierarchy
You can define the hierarchy between keywords with the > or < signs when you add them to the image or keyword library. The example of the house I gave earlier would look like Earth > Europe > France > Paris. Capture One creates each level in the keyword hierarchy that does not yet exist. Note that the syntax Paris < France < Europe < Earth would yield the same result.

Maybe you already have the keywords that you like to organize hierarchically in your keyword library. Simply drag-and-drop a lower level (Paris) onto a higher level (France) keyword to establish the hierarchy between the two.
Note that the Keyword Library tool visualizes the hierarchy.
Check the Hierarchy of Applied Keyword
The Keywords tool displays all the keywords in the hierarchy as separate keywords, which in fact they are.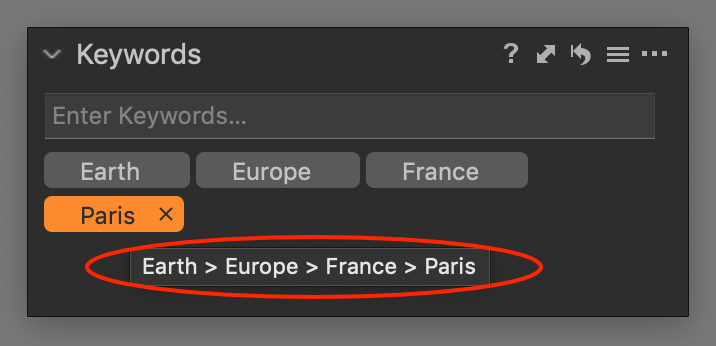 When you hover your mouse over a keyword, a tooltip reveals the parent keywords in the hierarchy. In the screenshot above, I hovered the mouse over keyword Paris.
Apply and Remove a Keyword Hierarchy
If you have keywords in a hierarchy, like Earth > Europe > France > Paris, you can remove the keyword at any level in the hierarchy. For example, the image was surely taken in France, but not in Paris, just remove keyword Paris. This will keep the keywords Earth > Europe > France.

If you have second thoughts about whether the image was taken in Paris, remove that keyword, and the lower-level keyword Paris is removed as well. This will keep the keywords Earth > Europe > France.
The Keyword Library Tool
Applying keywords to images with the Keywords tool, as I explained in the section above, might work for the occasional user, but is inadequate for the seasoned shooter. The whole idea of keywords is that you apply them in a consistent manner, including spelling and optional hierarchy. And you want to do it quickly.
The Keywords tool can not fulfill these requirements, but the Keyword Library tool can together with the Keywords tool. A Keyword Library is a repository for your keywords. It contains keywords that you used earlier and will use in the future.
With each Session and Catalog, Capture One creates a Session Keywords or Catalog Keywords library in the Keyword Library tool. Let's call this the default library.
If you have a modest image collection in a single Catalog, the default Catalog Keywords library is sufficient. In other scenarios, a shared keyword library would make more sense, as I explain later in this post.
You manage both the default keyword library and any additional shared keyword libraries from the Keyword Library tool. But let's start with the default library first, to get the idea.
Filling the Default Library
The following three actions populate your Session or Catalog Keywords library with keywords in Capture One:
each keyword that you enter in the Keywords tool
the keywords from images that you import
through importing a list of keywords
In particular, the first option is interesting as it let you automatically build a list of keywords while you enter them in the Keywords tool. The second option means that when you import images that already have keywords assigned to them, these keywords show up in the default library of your Session or Catalog.
Finally, you can import a list of keywords. This may be a list that you exported from another program or one that you downloaded from the internet. You can also directly import keywords from another Session or Catalog, or from a Media Pro Vocabulary File.
Using the Default Library
To add a keyword to a selection of images from your keyword library, search, or browse the library and click on the keyword. This adds that keyword to the selected images.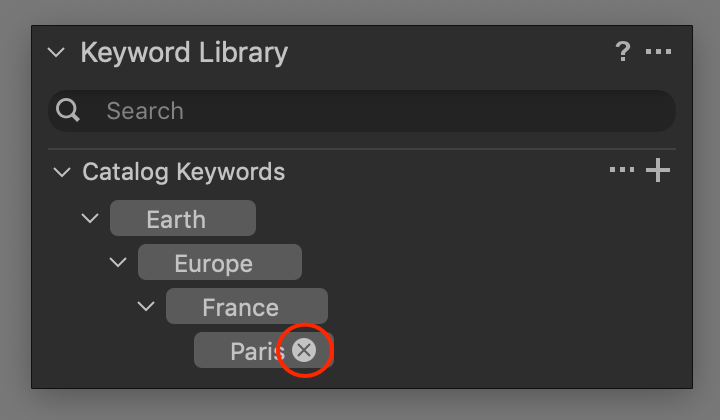 Likewise, you can remove a keyword from selected images. Look up the keyword in the keyword library, hover over the keyword to see the 'x' at the right of the keyword, and click on that 'x'. After a confirmation, unless suppressed, the keyword is removed from the images.
Deleting Keywords
I explained deleting applied keywords from the Keywords tool earlier in this post. You can also delete applied keywords from the Keyword Library tool. This works in a similar way as with the Keywords tool.
With the Keywords Library tool, you can also delete keywords from a keyword library. In the library, right-click the keyword(s) to delete, and select Delete Selected Keywords…
The question is whether deleting the keyword from the keyword library also removes the keyword from the images in your Session or Catalog?

Well, that depends. If you delete a keyword from the default keyword library, that keyword is removed from all images in the Session or Catalog. However, if you delete a keyword from a shared keyword library, it is not. See the difference in the warning messages above.
Note that after deleting it from the shared keyword library, the keyword is still in the default keyword library if it was ever used.
Shared Keyword Libraries
The default keyword library is bound to a specific Session or Catalog. This is a restriction that may limit your metadata workflow. Do you prefer to use the same keyword library in all your Sessions or Catalogs?
No problem, you can set up additional keyword libraries, also known as shared keyword libraries. Shared keyword libraries are the icing on the cake of using keywords in Capture One.
Creating a Keyword Library
From the Keyword Library tool, open the action menu (3-dots, top-right), and select Create Keyword Library.

Here you have four options:
New
this creates an empty keyword library
From Keyword Text File
the new library directly imports a text file with keywords
From Media Pro Vocabulary File
same as above but from a Media Pro Vocabulary file
From Capture One Catalog/Session
fills the new library with keywords from a selected Session or Catalog
I created three shared libraries in the screenshot above, Clients, Family, and Travel. The Travel library does not have a chevron symbol (>) in front of its name because it does not yet contain any keywords.
Note that once the keyword library exists, you can always import keywords. Click on the three dots at the right of the shared library you like to import into and choose your option.
And last but not least, you can create new keywords manually. In the screenshots below, I show you how to create multiple keywords plus hierarchical keywords at the same time.

In the screenshot above I create the keywords desert, aboriginal, and the hierarchical keywords Earth > Australia.
Shared Libraries Benefits
The shared keyword library automatically appears in the Keyword Library tool of each Session or Catalog in Capture One. This way you can grow a single keyword library and use it everywhere.
Another scenario is that you create or buy a specialized keyword library. Maybe you are into motorcycles, insects, trees, furniture, or cars, and you need a detailed list of keywords for that topic. Then it makes sense to maintain that list in a separate keyword library.
Finally, you can manage which keywords are included in the output file, and which not. See the section on export below.
Tip
You can copy keywords between libraries. With a simple drag-and-drop action you copy selective keywords from one library to another. Via export and import, you quickly bring all keywords from one library to another.
There is no option to move keywords between libraries. You have to copy and delete it manually.
Backup Your Keyword Library
The default Session and Catalog keyword library are maintained in the Session database and Catalog database file respectively. You back up your Catalog database via File menu > Backup. For the Session database, there is unfortunately no such command in Capture One.
And where do you find your shared keyword libraries in Capture One? You like to keep a backup for safety and maybe you like to copy it to your laptop while traveling. You find it in the so-called Application Support folder (Mac) or AppData folder (Windows).
on Mac: HD/User/[user_name]/Library/Application Support/Capture One/Keywords/*.cokeywordsdb

on Windows: C:\Users\[user_name]\AppData\Local\CaptureOne\KeywordLibraries\*.cokeywordsdb
Please note that keyword libraries are cross-platform compatible.
Process And Export Without Keywords
In the Recipe section of the Export Variants dialog, as well as in each Process Recipe, there is a Metadata tab. On this tab, there is a Keywords field with a drop-down list. Here you can choose between None, All, and From selected keyword libraries.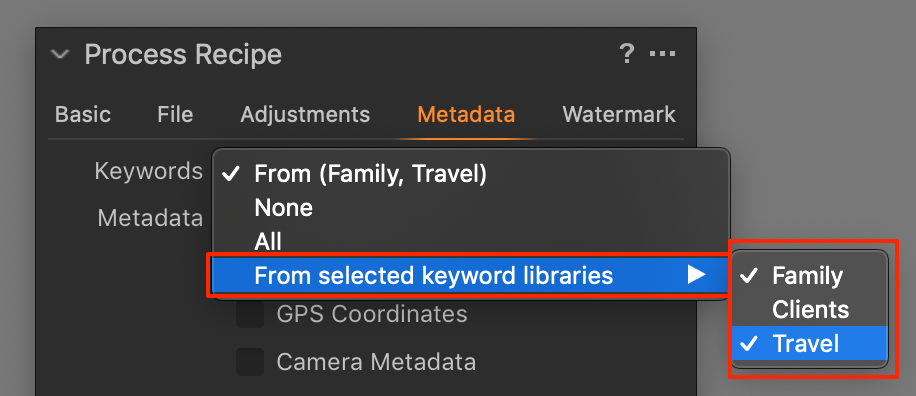 In this last option, you can select one or more keyword libraries which keywords – if applied – are included in the export or output. This opens a way of keyword management on output via keyword libraries.
For example, you have a description of a location in one library and the keywords about persons in another. On output, it is easy to control which keywords you like to include. To protect the privacy of the persons on the images, you exclude the person's library on output.
This is a very nice way to control keywords on output in Capture One.
Keyword Presets
You can create presets with the Keywords tool. A keyword preset contains one or more keywords, just like any other preset for other tools do.
However, keyword presets are unique in that they are additive. The keywords from the presets are added to any existing preset. Presets from other tools always replace existing adjustments.
In addition to this additive character, you can also stack keyword presets. This lets you apply multiple presets to a selection of images.
Summary
Keywords are a relatively simple way to add value to your images. With keywords, you can quickly find and categorize your images in Capture One. To make it work for you, you need to consistently add keywords to your images. Doing it occasionally or haphazardly is a waste of effort.
For many photographers, adding metadata and keywords are just a part of the job. Other photographers are not yet accustomed to this routine. For smaller image collection it seems overdone, and for larger collections too much work to start with. The bottom line is that you start with it one day, and stick with it. It is a long time investment, that pays off in the long run, just like a pension.
To prevent that you have to redo your keywords, you should consider whether creating a flat or hierarchical list of keywords in your library. A hierarchical list seems too much of a hassle to create and maintain but I believe it is much more effective in the long run.
With Capture One, I recommend a shared library as this is independent of the document (Session or Catalog) you work with, easily transferable to another computer, and easy to back up and restore.
Last but not least, reap the benefits of your work. Make Smart Albums in your Catalog that look for specific keywords to organize your images. Use the Filter tool to filter and search on keywords. I go into this part in a later post.
Thank you
For reading. Please feel free to leave a comment. Like us on Facebook or subscribe to our newsletter to stay informed about new blogs.
Best Regards,
Image Alchemist
https://imagealchemist.net/wp-content/uploads/2020/06/Shrimp-3000px.jpg
2250
3000
Image Alchemist
https://imagealchemist.net/wp-content/uploads/2016/03/IA-logo-full-340x156.png
Image Alchemist
2020-06-22 08:00:38
2020-08-25 09:47:39
Using Keywords in Capture One