In this Update 3 review of Capture One 21, I go over all the highlights of this release. The reworked Export feature with overwrite option, and the Magic Brush are the highlights of this release. But there is more.
Capture One 21 Update 3 Review
In this Update 3 (build 14.3) review of Capture One 21, I go over all the new release features.
Reworked Export
Magic Brush
Mask Visibility Settings
Subfolders in Catalog
Tethering
To describe this update in a few words, I would say ease of use or more natural and intuitive.
Workflow-wise the changes with export and handling of subfolders in Catalogs makes sense. Capturing during live view saves Fujifilm owners additional mouse clicks.
Editing-wise it is clear that the Magic Brush makes masking much easier in many situations.
Save 10%
Whether you are a subscriber or have a perpetual license for Capture One 21, this release is available to you free of charge. If you like to buy new or upgrade, you can use coupon code ALCH10 for a 10% reduction.
Earlier reviews
For all features that were added in Capture One 21, please review the earlier Capture One 21 Review and the Capture One 21 Update 1 Review.
Export With Overwrite
Import and export of images are essential features in photo software like Capture One. In recent updates, Capture One offered a redesigned Import Images dialog while adding features. I refer to the Large Import Viewer introduced in Capture One 21 build 14.1.0.
This time, the Export function got a makeover. With a separate Export dialog, and a thumbnail, and a large viewer toggle. Before we dive into that, I share a little history about this feature.
Export history
Since the first version of Capture One (2003), export was known as processing. A processed image is a new image that merges the original and the adjustments into a new file. A Process Recipe stored all options that affect processing.
You could create an infinite amount of different Process Recipes, and you only had to enable those you needed. Multiple enabled recipes resulted in the same amount of images simultaneously. This existed until today (2021). Extremely powerful but hard to swallow for new and even seasoned users.
With many users migrating from other platforms used to a much simpler feature with a different name, Capture One 7 introduced the Export function (2012). Export Variants was essentially a single recipe version of processing. It lacked the watermark feature but had the Export Original advantage, which remains unchanged in this new version.
However, two similar options in one package mean you are asking for confusion.
Merge and improve
Capture One 21, build 14.3.0, merges both features. The single recipe Export Variant function is out of the door, the multiple recipe Process function is renamed to Export, and three important features are added:
Large Export Viewer
Session Default and Catalog Default location
Overwrite option
What remains are the following functions:
separate Export Originals
Export directly with previous settings through a shortcut
Let us have a look at the new Export feature.
Menus and buttons
In the toolbar, you notice a familiar icon for Export, but with a twist. It has a small triangle icon bottom right, noticing you of available options when you long-click to expand.
As you can see from the screenshot, you can open the Export dialog, quickly export with previous settings, or export an original, which is particularly handy for Catalog users.
In addition, you have the Edit with, Open with, and Publish options now from the toolbar as well. These options are similar to those from the Image menu.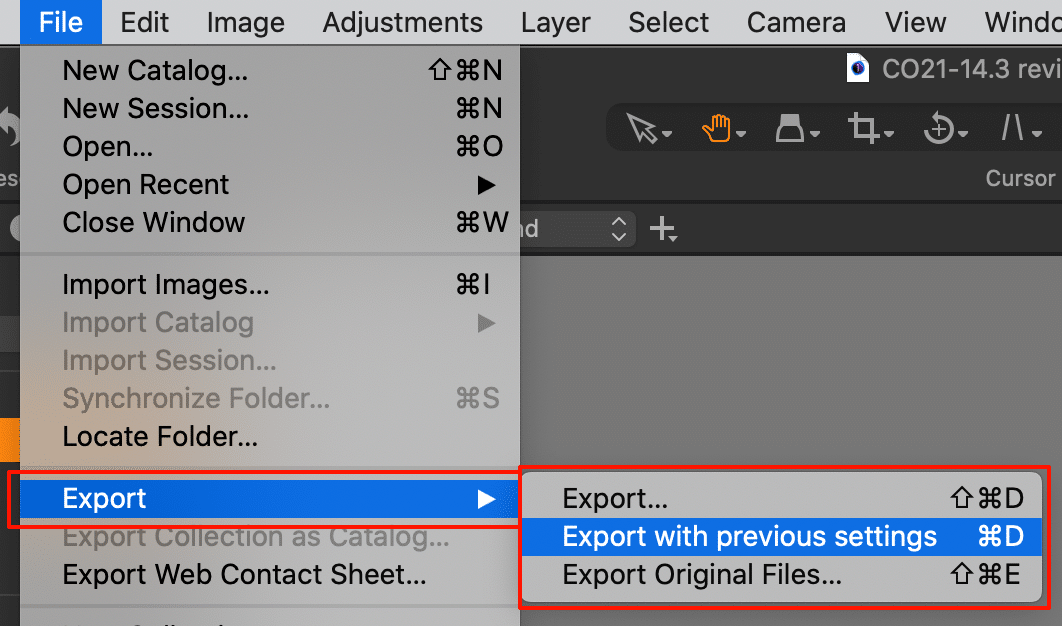 As usual, you find the Export option in the File menu, expanding with the same three export options as the toolbar icon.

When you right-click a thumbnail, you also have all options together.
Export Images dialog
When you open de Export Images dialog, you might notice the large Export Viewer, similar to the large Import Viewer. You can switch it on/off with the icon at the top.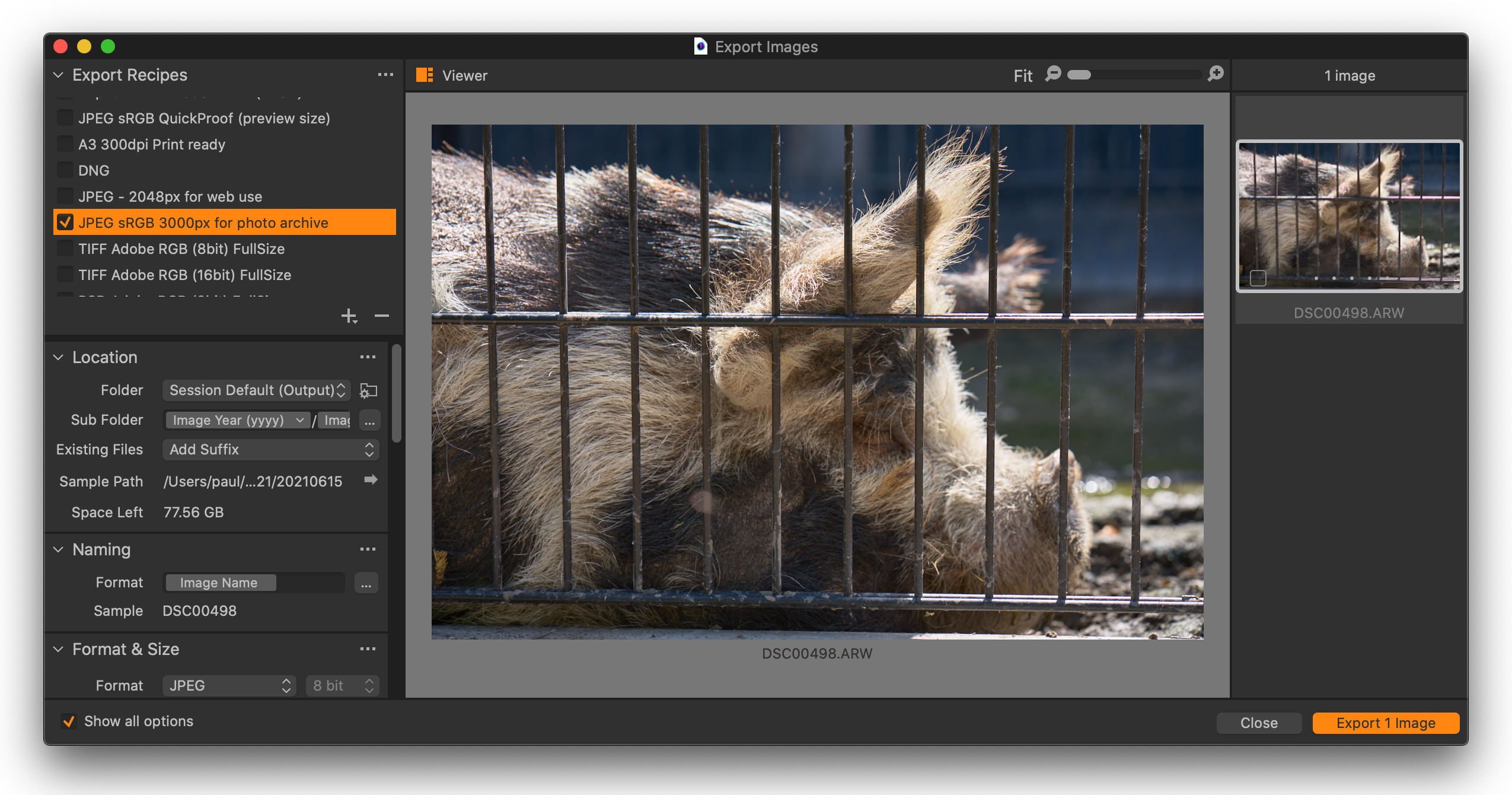 In the Location section is a new field, Existing Files. Here you can tell Capture One what to do when the file name already exists in the given location.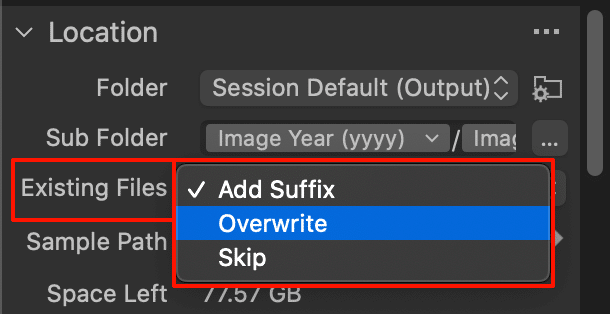 The option Add Suffix is the default and is similar to what Capture One already did. Overwrite is what it says. Same as Skip. I believe this feature is fulfilling a long-standing request of many users.
Note that you may miss some options. Please notice the Show all options tickbox at the bottom left corner. This will unhide the Adjustments, Watermark, and Metadata sections.
Subfolders In Catalog
There are two enhancements regarding subfolders and Catalogs with referenced images. One is called Show Images in Subfolders. The second option lets you synchronize new subfolders. Note that you can enable/disable both new features.
Show images in subfolders
In a Catalog with referenced images, you can view the images per folder via the Library > Folders section. Until now, you could not view all images in subsequent subfolders from a parent folder. Now, this feature is added.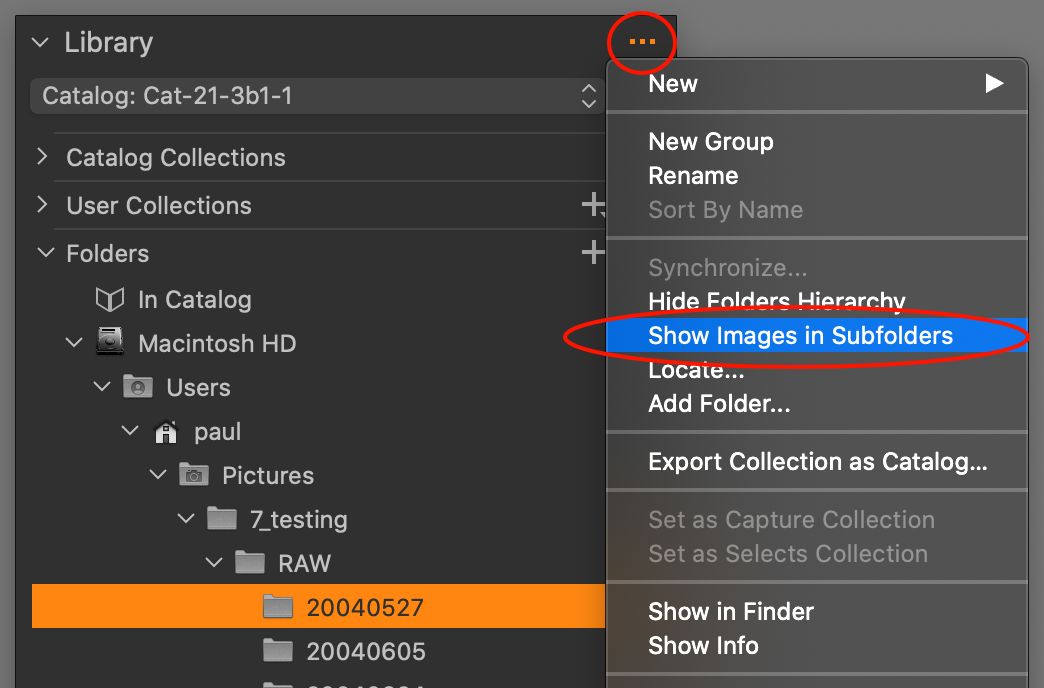 In the Library tool, go to the action menu (3 dots) in the top right corner of the tool. Select Show Images in Subfolders. Note that this is a toggle, which means that you switch it off by selecting it again.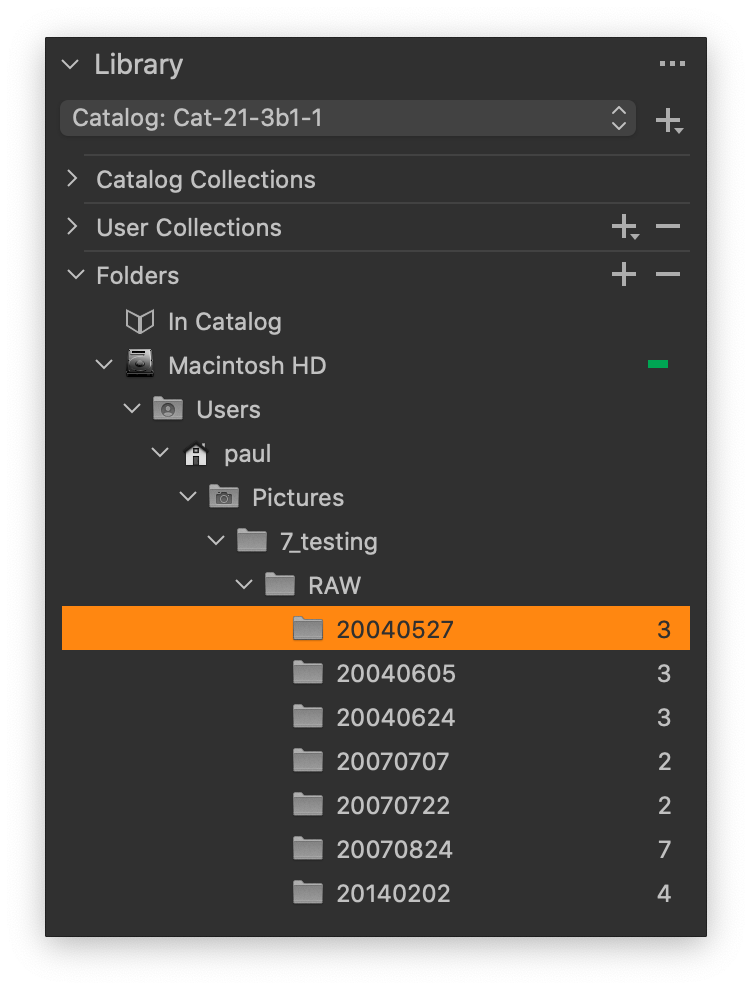 Note that the parent folder now shows the number of images that are in that collection. For this feature to work properly, you also need to enable Show Folders Hierarchy from the same action menu.
Synchronize new subfolders
The synchronize feature for Catalogs with referenced images lets you quickly import new images from already imported folders. When you add images to these folders after import, the Synchronize feature detects these images and offers them to import.
This feature worked already on known subfolders if desired. New subfolders, however, were not included. Capture One 21, build 14.3, now includes new subfolders in the synchronization process when you enable the Include subfolders option.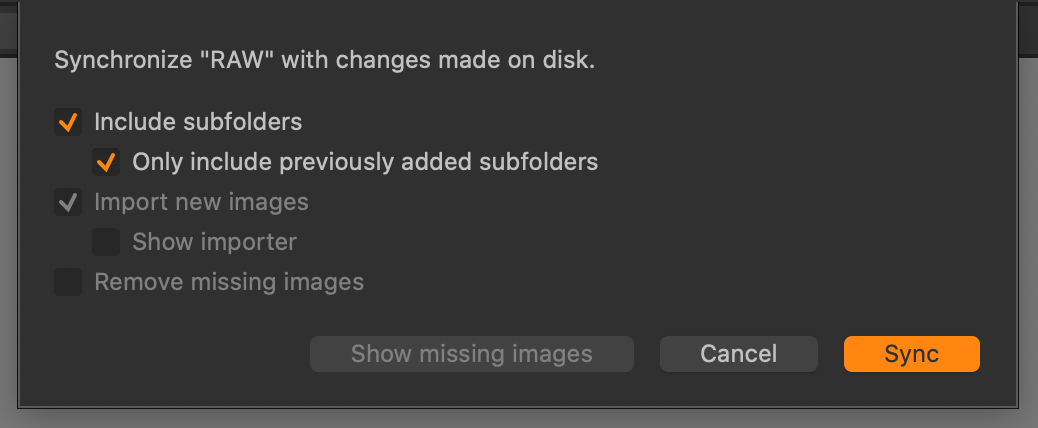 In the before/after screenshots above, I added a new subfolder with 11 images. Capture One detects it and offers to import the images (before).
In the second screenshot, I tell Capture One to stick to known subfolders with the suboption Only include previously added subfolders, excluding my new subfolder from import.
Magic Brush
With this new brush, you can quickly mask areas of similar color. As with other brushes, you use the Magic Brush on an Adjustments Layer.
I edited the first image of this review, the branch with blossoms against a blue sky. With a single click of the Magic Brush in the blue sky, I selected the entire sky. Next, an Exposure adjustment was sufficient to gain the desired result. Done.

You find the Magic Brush either in the Layers tool, next to the regular brush, or in the Cursor Tools. There are a few options that affect how the Magic Brush works. By tweaking these options, you can get the desired effect in one or a few strokes.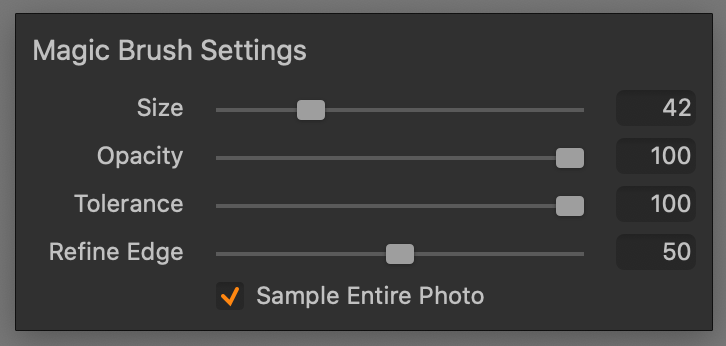 With Tolerance, you adjust the range of colors to mask. See the before/after comparison below with different Tolerance settings.
The Refine Edge slider makes the edges of the mask smoother. We know this feature from the Layers tool and the Luma Range feature. This is an important setting because all kinds of automatically generated masks tend to have rough or unnatural edges.
The Sample Entire Photo checkbox is an interesting option. Areas of a different color sometimes contain an area of a specific color. The Magic Brush will only select that area, not similarly colored areas in the photo outside the contained area. When you enable the Sample Entire Photo option, the Magic Brush will mask similar areas in the entire photo.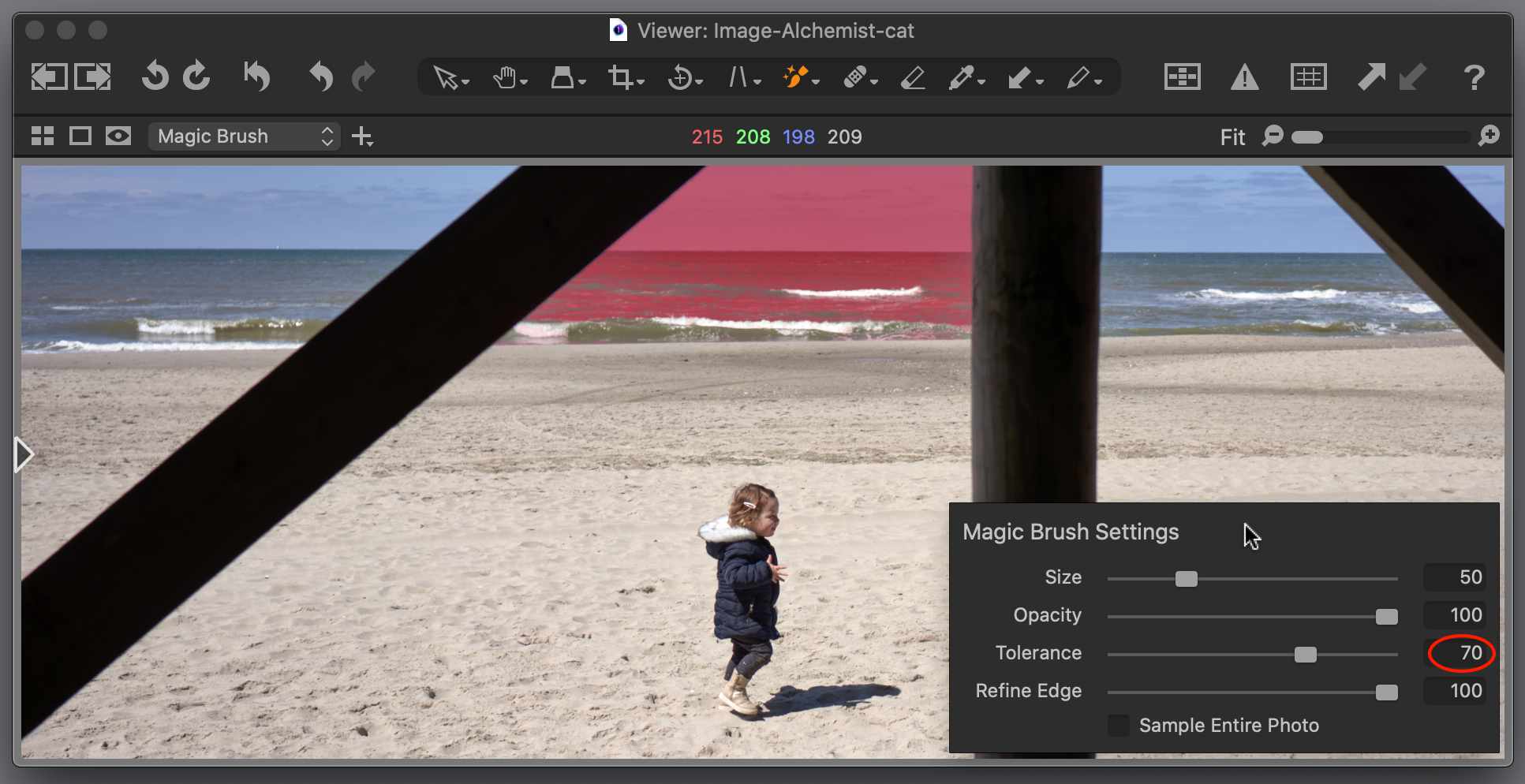 In the image above, both before/after, you see the effect of not enabling the Sample Entire Photo option. I sampled the sky, and only the contained part is masked.
The difference in the before/after comparison between both images is the Tolerance setting. When you set a higher Tolerance value, the more areas with similar colors you include in your mask. When your Tolerance setting was too low, you can increase it and click again in the same area to expand the mask.
Note that after the first brushstroke, you might get the Calculating Magic Brush Mask message.
Mask Visibility Settings
In the top right corner of the Viewer, you find a new icon next to Primary/MultiView toggle and the Proof Margin toggle: the Mask Visibility Settings.
These settings were earlier on the Layers tool, action menu but are moved to this new location. You still find these visibility settings under brushes between the cursor tools.
Notice the Display Heal and Clone Arrows that you can switch on and off from this menu.
Tethering With Update 3
Regarding tethering, this release will make some Fujifilm and Leica camera owners a bit happier.
When you tether with supported Fujifilm cameras and use Live View, you can capture an image during Live View.
Using the Focus Nudge tool using Leica S (Typ 007) and S3 cameras, you can now tweak the focus in three different intervals. Focus Nudge-supported lenses are the Leica Super-Elmar-S 24 and the Leica Elmarit-S 30 CS.
New Cameras And Lens Profiles
As with almost every release, Capture One 21 Update 3 supports more camera raw file formats, more lens profiles, and new ProStandard profiles for better and more consistent image quality.
New Cameras
This release adds RAW support for the following cameras:
Fujifilm X-T1 IR / X-S10 tethering
Panasonic Lumix G99 / G95 / G90
Lens Profiles
This release adds lens correction profiles for the following lenses:
Fujifilm Fujinon XF 16/18/27/50/10-24/70-300 mm
Fujifilm Fujinon GF30/80 mm
Sony FE 35/40/50 (f/1.2 & 2.5) mm
Sigma 15/16 mm
Thank you
For reading the Capture One 21 Update 3 review. Please feel free to leave a comment. Please like us on Facebook or subscribe to our newsletter to stay informed about new blogs.
If you like to buy new or upgrade, you can use coupon code ALCH10 for a 10% reduction.
Best Regards,
Image Alchemist
https://imagealchemist.net/wp-content/uploads/2021/07/blossom-title-2560px.jpg
1920
2560
Image Alchemist
https://imagealchemist.net/wp-content/uploads/2016/03/IA-logo-full-340x156.png
Image Alchemist
2021-07-22 13:00:28
2021-07-22 20:48:50
Capture One 21 Update 3 Review