Creating great output is what Capture One is all about. The images coming out of Capture One are either your end-result or a pre-stage for further processing. The Capture One Export feature gives you a huge amount of control for almost any task, although it is not Capture One's only option. Export is also the fastest and easiest way to create output.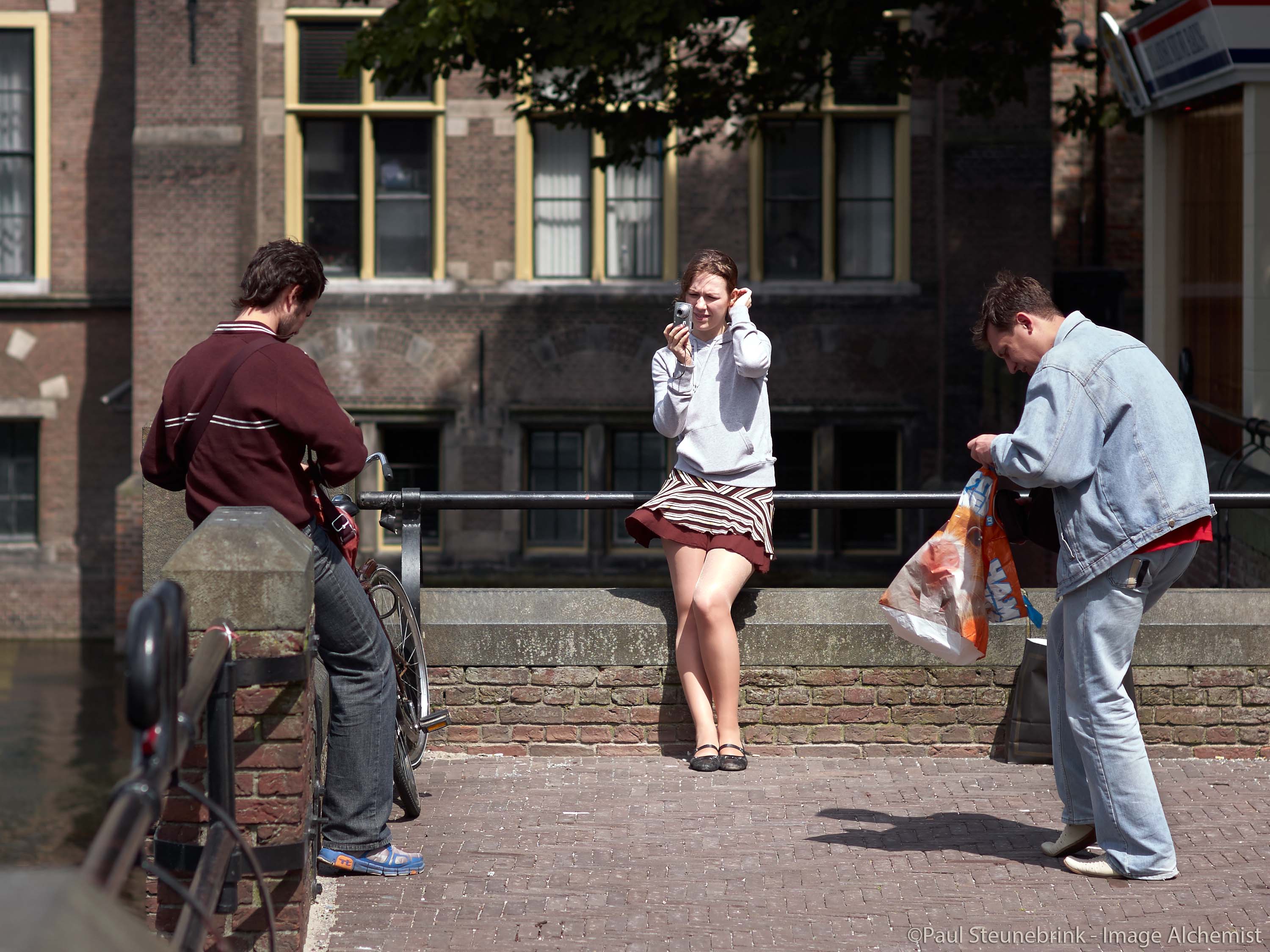 Capture One Export
Sometimes I compare working with Capture One to a launderette. The uncorrected raws – dirty laundry – goes in, the washing machine does its magic with me pushing some buttons – the adjustments -, and the exported images – your clean laundry – are ready to take home.
This blog focuses on the Capture One Export feature. You find this feature in all modes of Capture One, from the full Pro version to the restricted Express (for Sony).
In the Pro version, you can also use similar but more extensive Process and Process Recipes features. I explore these in two separate blogs: Capture One Process and Capture One Process Recipes.
Export Originals or Variants
After import, select and adjust, it is time for export. In the File menu, you can find Export Images, but then you are confronted with a potentially confusing choice: Original or Variants.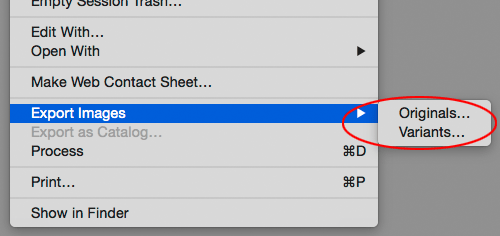 I will discuss both options below. Please note that there are obvious differences between the two Export dialogs (Originals versus Variants), and that there are small differences between the same dialog for either Session and Catalog.
Export Originals
The first Capture One Export option is to export Originals means that you export the uncorrected (raw) image file from your catalog or session into a designated folder. Simply put, Capture One creates a copy of the original for you. This is great for exporting one or more images from a larger collection, ready for distribution or transfer to another system.
Optionally, you can have Capture One add the adjustments in adjacent sidecar files like it does when working with sessions. Note that these adjustments are only readable in Capture One. The image below shows the Export Originals dialog for a session in full swing.
As you can see the dialog has three sections, Location, Naming and Options. I will discuss them in that order. Fortunately, there are very minor differences here between whether you use a session or catalog.
Note: although the Export and the Process functions have many similarities, only the Export Originals function allows you to export originals. The Process function does not provide any of that.
Originals > Location
In the Location fields, you select the destination folder for export. With a Session, the Session Output folder is the default in the Store Files field, but you can override this. Select any folder you like. Additionally, you can use a subfolder inside the selected folder. Just type in the name of the subfolder or an entire path in the Sub Folder field and the Sample Path area below it will show you the result.

But there is more. Now magic kicks in when you open the dialog with the three dots at the right of the Sub Folder field. You can fill in all kind of tokens, and mix it with characters like a dash (-) and text. In particular, under Group > General you can find some very useful tokens to get you started.
Originals > Naming
Leave this setting to the default Image Name token if you want to keep the name on export the same as the original. If not, again you have the tokens at your disposal for renaming. The Job Name field corresponds with the token with the same name. What you type in here is filled in on export.

In addition to tokens you have another renaming method at your disposal: Find and Replace. For example, when your images start with IMG_  you can rename them to YourInitials- on export. I have my images renamed on import starting with my initials (PS) and creation date (YYMMDD) but can give it a more descriptive name on export.
Note: the Location and Naming settings are program-related, not session or catalog related. In addition, they are unique to either the Export Originals and Export Variants dialogs. In other words, the program stores these settings for both dialogs independently to improve your workflow.
Originals > Options
I think the Options are rather self-explaining. Set-and-forget but take notice at least once. Do you like to save adjustments, including movies, and like to be notified when done? Check your boxes!
When working with a session you have the option to include the export folder to the Session Favorites. This will include the folder in the search function, which is also used for Smart Albums.
Export Variants
The second Export option in Capture One you probably will use most: Export Variants. This will export your original plus adjustments into a new TIFF, PSD, PNG or JPEG file. For this purpose you take a slightly different route from File menu > Export Images > Variants to get into the proper dialog.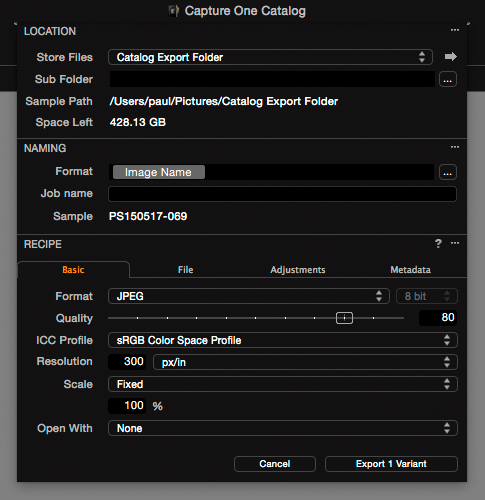 You see a dialog similar to the Export Originals dialog, but with a new section Recipe, and with fewer (session) or no (catalog) options.
Variants > Location
The Location section works identical to the one discussed under Originals > Location above, so please refer to that description.
Variants > Naming
The Naming section works almost identical to the one discussed under Originals > Naming, so please refer to that description. The minor difference is that – up to Capture One 8.3.4 – the Find and Replace feature is missing in the Mac version.
Variants > Recipe
The Recipe section is unique for the Export Variants option, in contrast to Export Originals, for obvious reasons. After all, you are going to create a new file from your original image and you need to tell Capture One exactly what you want.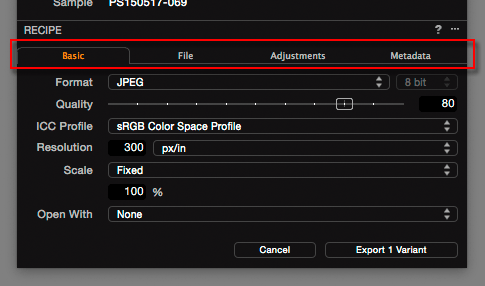 The Recipe section has four tabs, but I will only discuss the first Basic tab here. I discuss the remaining tabs in a blog on Process Recipes. Now you can also see the main distinction between Export Variants and Process in Capture One Pro. The Export Variants feature has only one recipe while the Process feature is virtually limitless in their amount.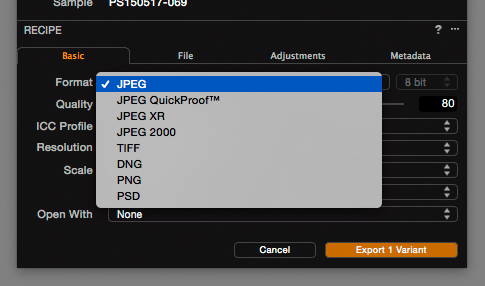 First, you decide what Format you want the exported file to be: JPEG and TIFF are the most common, but there is more to get from the drop-down list. Depending on your selection Capture One will set the bit-depth to 8 or 16 bit or allow you to select it. In general, 8-bits are sufficient except for the most demanding assignments or heavy post-processing. On these occasions you select 16-bits. For web choose JPEG.
Quality, Profile, Resolution, and Scale
Next, you may get a Quality (JPEG) or Options (TIFF) field or none. TIFF compression is lossless, the JPEG quality setting as a measure for compression is not. Choose a lower quality for the web to save space and allow a fast transmission.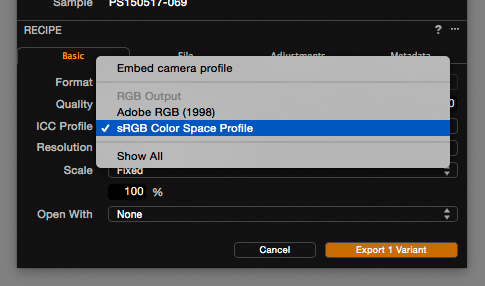 The ICC Profile is the working space or color space the color information is saved to. If you are not technically experienced or not much into color management, choose sRGB. It is safe for the web too. For prepress and printing a larger color space as AdobeRGB is more suited. When you have extensive control over color management in your workflow, go with the flow and pick your best.
Special feature: embedding the camera profile assures you that all color information of the images is retained in the output.
The Resolution field in pixels per inch, millimeter or centimeter does not affect the number of pixels or quality of the image. This is a common misconception. Leave it to the default 300 px/inch unless you have a reason to change it. It is used to translate the number of pixels to physical dimensions.
The Scale field is a bit more complex. The default is Fixed at 100%. This means that the amount of pixels in your original file (after a potential crop) is the same as what you get on output. Any other value than 100% or other than Fixed effectively makes Capture One to upscale or downscale to the desired output value. You can prevent upscaling if you like in a separate option in the Scale drop-down list.
Last but not least, you can have Capture One open the newly saved image in a program of your choice from the Open With field for review or further processing. Be aware that this may cost extra memory and other resources that Capture One uses (or likes to use) for the Export task.
Tips
You can make a keyboard shortcut to either one or both Export options, depending on your use.
You can add the Export Variants button to the toolbar.
When you Export multiple selected images, make sure you have the Edit All Selected Variants enabled. When you are new to this toggle, please refer to the blog on Capture One Variants to get you sorted.
Thank you
For reading. Please feel free to leave a comment. Like us on Facebook or subscribe to our newsletter to stay informed about new blogs.
Want to try Capture One? Or would you like to buy it?
Best Regards,
Image Alchemist
https://imagealchemist.net/wp-content/uploads/2015/07/Girl2GuysSummer.jpg
2250
3000
Image Alchemist
https://imagealchemist.net/wp-content/uploads/2016/03/IA-logo-full-340x156.png
Image Alchemist
2015-07-15 12:00:51
2020-03-31 09:29:29
Capture One Export