Introduced June 2015, the Phase One XF camera system is the latest entry on the high-end market of professional photography. The system aims higher image quality, higher reliability, faster workflow in a package that is both more versatile yet easier to use.
Phase One XF Camera
This first impression is based on an afternoon presentation with hands-on experience with the Phase One XF camera with Phase One staff at Eyes On Media in Amsterdam, earlier this month (June 2015). As a result please regard this post as a preview.
This preview is primarily aimed at the Phase One and Mamiya/Leaf photographer who likes to know the differences and benefits of the new system. In particular, I like to address the option of a partial upgrade (body, back, or lens) and how it affects you.
I hope to be able to work with the camera later on. This will enable me to review specific features and experience the handling and image quality and report about it. But until that happens, this is what I can tell you about it.
Images by courtesy of Phase One.
Phase One XF Camera
The Phase One XF camera is presented as an entire system that encompasses a new XR camera body, new IQ3 digital backs, and Capture One Pro 8.3. In addition, two new Schneider-Kreuznach lenses with the blue line designation were introduced with the camera.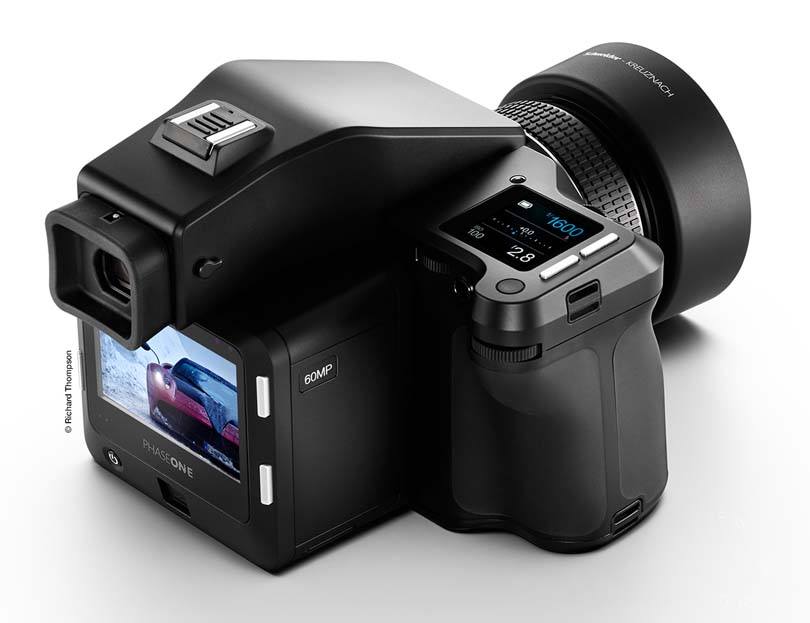 Introducing so many new products on one occasion is an enormous operation and unique by Phase One standards. What is Phase One's primary focus? High-end, meaning as high as you can get. Period. What brings Phase One to the table with this introduction? Read on.
Feel Me
First, the new camera has a much better grip, which is fixed to the camera and not an accessory like the V-grip on the 645DF/DF+.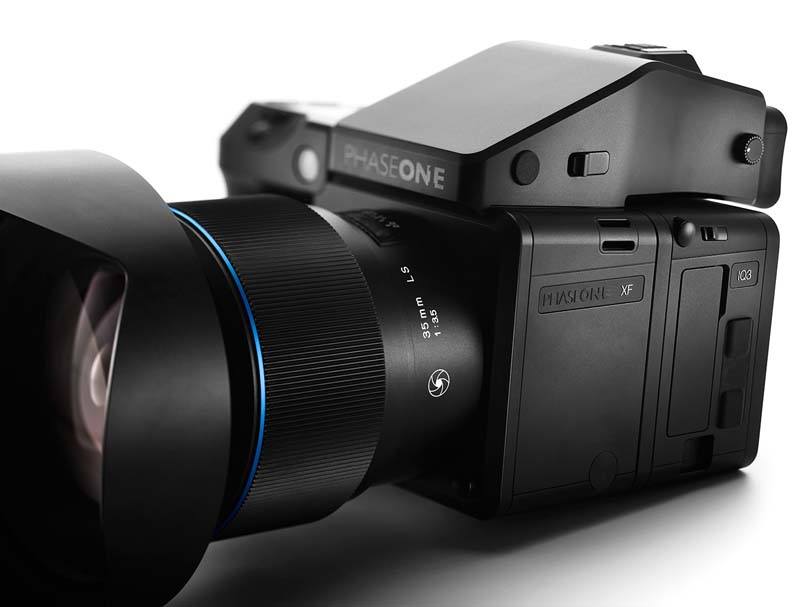 Second, prism finder is very bright. Third, the body and back feel more integrated. That's a good start.
Benefits
Before jumping in dry or juicy details, depending on your taste, what are the benefits of the new gear for the professional photographer? Let's shoot some bullets.
Reliability
The previous offering was a mixed blessing. A Mamiya-designed tool from the past, with digitally adapted with firmware which is hard to debug. Not something you need when flexibility becomes a necessity. To solve this was a clear design focus and that's a promise to cherish.
Image Quality
Reduced camera vibration, better lenses, faster and more accurate focusing and long exposure support over the entire range of digital backs.
Faster Workflow
Faster tethering with Capture One 8.3, faster interconnects between camera and back (XF/IQ3), faster autofocus, efficient battery life (XF/IQ3), capture from Live View.
More Versatile
A lot of bells and whistles are added or improved.
Easier To Use
A touch interface and reprogrammable buttons allow you to adapt the camera to your way of working.
That sums up pretty much what Phase One is promising us.
The Body
The Phase One XF camera body is meant as a replacement for the well-known Phase One 645DF/DF+. What are the key features of the XF?
Simply put, get the XF in your hands and you have entered the 21st century in medium format. Yes, you already entered that era but Phase One medium format had not yet done that entirely until now.
You can attach your Phase One IQ back (all models) to the XF body but older P+ and P models will not work. Leaf Credo backs will work after a planned firmware update, while older (Aptus) models will not work either.
Fancy features like an optional waist level finder (image above), temperature and vibration sensors, extended camera configuration from Capture One, hyperfocal point focusing, exposure bracketing, and capture during Live View to Capture One 8.3 and Capture Pilot are available to the XF shooter. Depending on your needs these features vary from nice-to-have up to need-to-have.
The IQ3 Digital Backs
The IQ3 series replaces the IQ2, with the exception of the IQ260 Achromatic. The 50 and 60-megapixel models have the same sensor in both series but the 80-megapixel model has a redesigned sensor to enable long exposure times up to 60 minutes. Now all IQ3 models – IQ350/360/380 – have the long exposure feature.
In addition, the IQ3 offers faster data transmission between back and body plus power-sharing. Power-sharing means that you simultaneous drown both batteries from back and body (same battery type), which should result in more shots starting fully charged.
Attached to a technical camera the back is still independently working from its own battery as usual.
Blue Line Lenses
The two new lenses that are introduced along with the Phase One XF/IQ3 system are the Schneider-Kreuznach 35mm LS f/3.5 and the 120mm LS f/4.0 macro. The two new lenses have a blue line to show off two extra assets.
First, their optical qualities including resolving power are very high by today's standards. We all know that the high-resolution cameras and digital backs nowadays often go beyond what yesterday's optics can deliver. These lenses are here to keep up with the future.
Note that the Schneider-Kreuznach lenses 40-80mm LS f/4.0 zoom has similar optical qualities like the blue line lenses. You see all three lenses in the image above.
Second, the build quality is greatly improved, feeling solid in your hands and operating more smoothly during manual focusing. You can use the new lenses on older Phase One and Mamiya 645DF/DF+ bodies as well with up to date firmware.
Capture One 8.3
What has Capture One 8.3 to do with the new XF camera and IQ3 backs? First, from that version onwards, you have file support for the IQ3 backs. You can also tether the XF camera from Capture One Pro or DB including Live View and tethering is faster with this software version. Last, you can configure the camera with 8.3's new Camera Settings tool.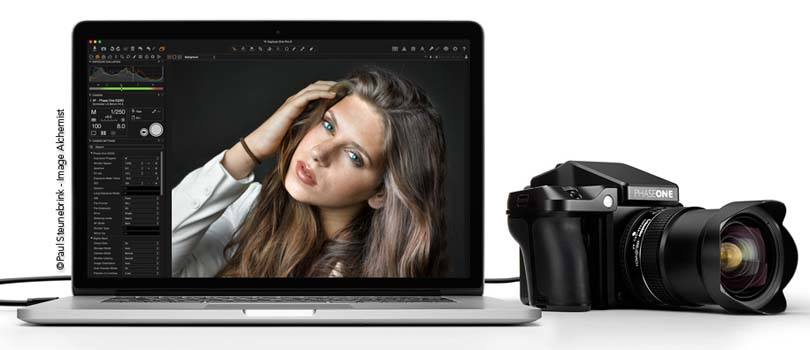 For details on this software update, please check out my full Capture One Pro 8.3 review.
Thank you
For reading. Please feel free to leave a comment. Like us on Facebook or subscribe to our newsletter to stay informed about new blogs.
Want to try Capture One? Or would you like to buy it?
Best Regards,
Image Alchemist
https://imagealchemist.net/wp-content/uploads/2015/06/GirlArmHair.jpg
2250
3000
Image Alchemist
https://imagealchemist.net/wp-content/uploads/2016/03/IA-logo-full-340x156.png
Image Alchemist
2015-06-29 12:54:56
2020-03-30 19:18:57
Phase One XF Camera