The full Capture One Levels Channels set contains 345 presets: 115 per color channel Red, Green, and Blue respectively. Per color channel, the presets are divided over 1 main and 5 subfolders – Shadow, Mid Tone, Highlight, Target Shadow and Target Highlight. All 5 control handles of each color channel of the tool are covered by this set. All presets can be used both separately and combined through stacking.
Please note that this set of presets is also available as part of the larger Preset Collection Exposure, which contains presets for other tools as well.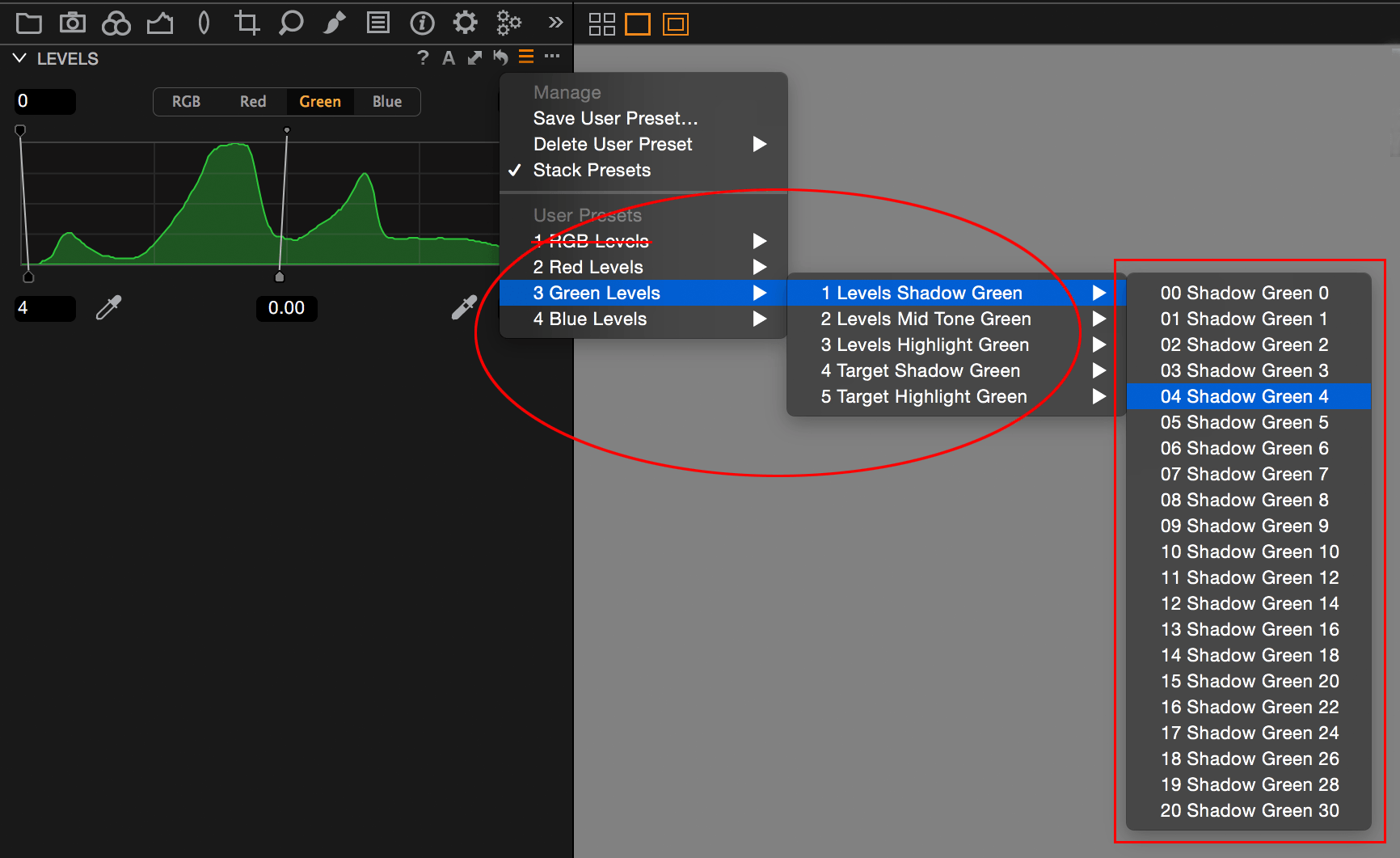 More
There is an complimentary set called Capture One Levels RGB available. This set has similar presets and functionality for the remaining Levels RGB channel. By combining both sets you have an extremely comprehensive set of presets for the Levels tool at your disposal.
Compatibility
The presets are compatible with both Capture One 8/9/10/11/12/20 on Mac and Windows. They might work with older versions but at your own risk. It is recommended to test with the free trial first (see button below).
Warning
The presets in this set allow you to control each of the control handles independently for each color channel. This is non-default behavior and achieved by manually editing each preset. These enhancements work great on Mac and allow you to get the max out of this tool. Unfortunately, these enhancements are not yet supported on Capture One 8, 9, and 10 on Windows. See Try First below.
Apart from the enhancements mentioned, these presets are bound to a restriction in Capture One Pro that in a preset each handle is linked to the same handle on other channels. In other words, in a preset, all black points for all channels are connected and can not be handled independently from each other through presets. This is by design.
Languages
Both the full and the trial set contain the presets in English, German, French, and Dutch.
Try First
There is a free trial set available for download. It is a subset of the full set, containing 66 (out of 345) presets. You are highly encouraged to try these first before you buy the full set, in particular when working on Windows (see Warning) or use an older version of Capture One Pro (see Compatibility).
You can also download all free trial presets in one package, the Preset Collection Free Trials set.
Specs
Release date:
February 2, 2016
Last updated:
April 12, 2019
Current version:
1.1
Product type:
Capture One Preset
File format:
.zip
File size:
836 KB
Requirements:
Capture One 8 / 9 / 10 / 11 / 12 / 20
Price:

$22.00

USD
https://imagealchemist.net/wp-content/uploads/2016/02/CO-MacR-LevelsGreen-shop.png
308
728
Image Alchemist
https://imagealchemist.net/wp-content/uploads/2016/03/IA-logo-full-340x156.png
Image Alchemist
2016-02-02 08:00:36
2019-12-04 09:28:12
Capture One Levels Channels