Should you upgrade Capture One Express to Pro Sony? Sony camera users are so lucky. Capture One Express Sony is free and Pro Sony a real bargain. Although addressing the Sony shooter in particular today, don't look away if you have a different camera brand. This post is all about the gems in both Pro and Pro Sony version. Do we use the Pro features or not?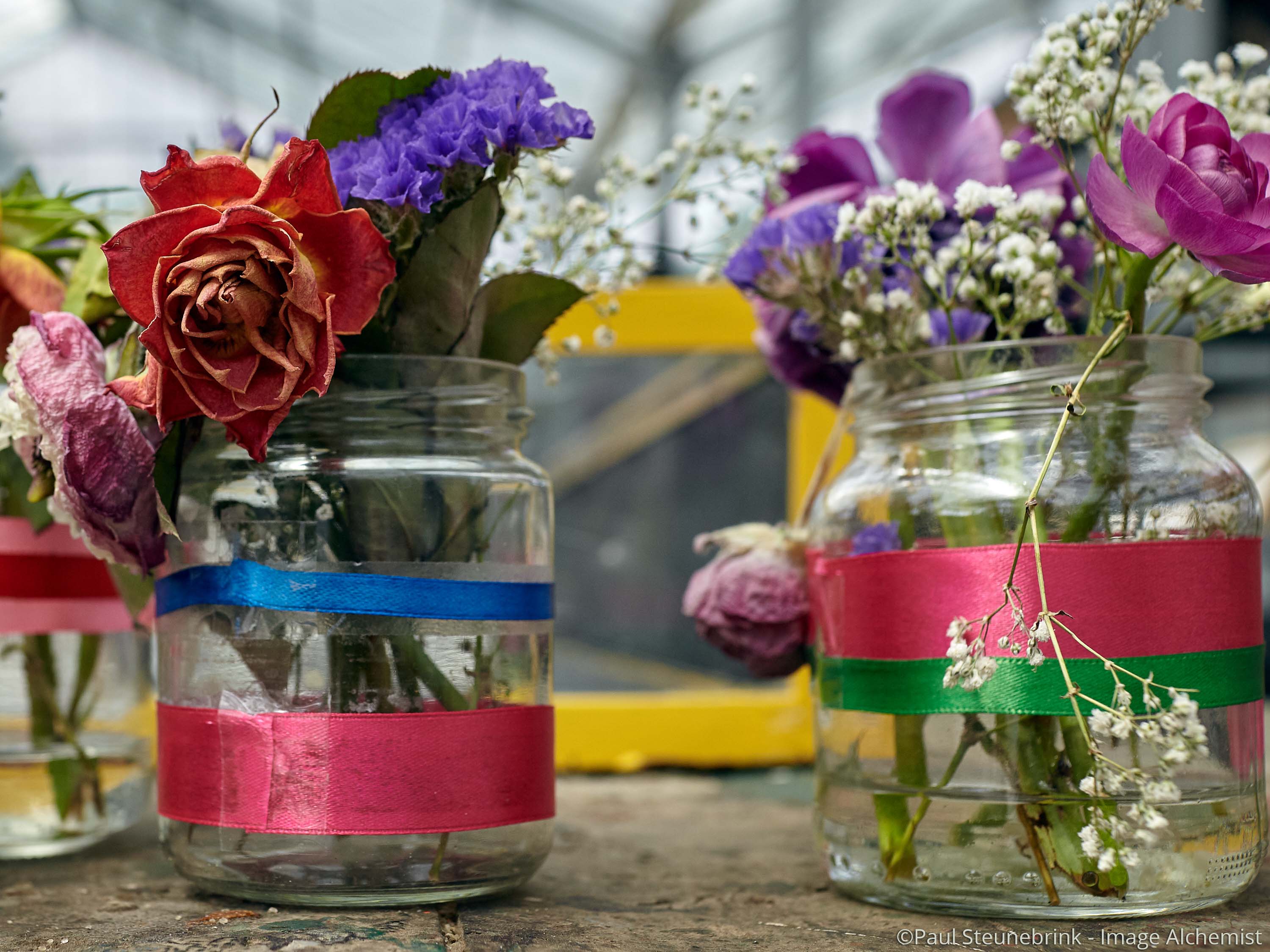 Upgrade Capture One Express To Pro Sony
Why? I have seen beautiful and awesome images processed with Capture One Express Sony, the exclusive, free but limited version for Sony shooters. But I also noticed what the image could have gained when Capture One Pro Sony would have been fully utilized.
As a Sony camera user, you have two big advantages. First, you have access to the second-best raw converter in the world for free: Capture One Express Sony. Second, you have access to the best raw converter for a reduced price: Capture One Pro Sony.
Capture One Pro Sony can not beat its free Express sibling on price but it sure can on features. In this post I show you why I think that upgrading to Pro Sony is the best investment you can do to your images and obviously yourself.
Bottom line: Sony is at its peak with its cameras, competing for head to head with other brands. It deserves a raw converter to match that. I believe Capture One Pro Sony is the solution to that challenge.
Pro Sony or Pro?
Most of us are familiar with Capture One Pro, the version that has it all. Capture One Pro Sony is identical but limited to Sony (and Phase One) cameras only. Capture One Express Sony is both limited to Sony cameras as well as in features. For the remaining part of the post, when I refer to Pro this includes Pro Sony as well.
Pro Pricing
Pricing of Capture One Pro Sony is very attractive compared to the full Pro. Get the current pricing at the Capture One online store.
So for the rest of us non-Sony shooters: do we use the Pro features or do we limit ourselves? Read on to get the answer!
Taking The Step
Stepping up from Express to Pro could not be easier. No reinstallation but the same program in a different mode. You can use the 30-day trial to test the waters first. In the unlikely event that you want to go back to Express, again no pain.
Nothing happens to your catalog and adjustments. The Pro mode works identical and you are familiar with the tools and the interface.
When you buy the Pro Sony license, you can activate it on two computers (Windows, macOS, or combination) concurrently. The license does not expire (perpetual) but is bound to a particular version (version 11 currently). When a newer version comes along, you can upgrade for a reduced fee. Intermediate updates like 11.1 are free of charge.
Note that buying the full Pro allows activation on three computers concurrently.
Simple How-To
To switch from Express to Pro Sony or Pro is a very simple process.
On macOS go to Capture One 11 menu > License > Change License, Quit. Next restart Capture One. On the Please select your Capture One 11 product screen, and select Pro (for Sony) or Pro. Your 30-day trial will start.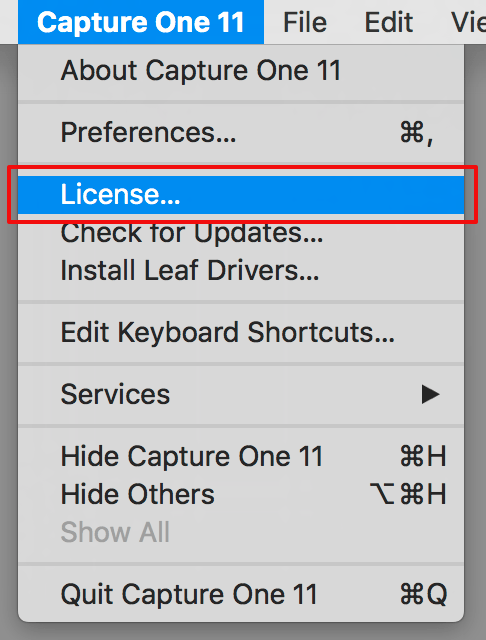 On Windows go to the Help menu > License Information > Stop Running Express (for Sony). Next restart Capture One. At the Please select your Capture One 11 product screen, select Pro (for Sony) or Pro. Your 30-day trial will start.
Tip
Having a third computer for traveling, for example? Switch activations or upgrade to the full Pro. The single-user Pro license has an extra (3rd) activation.
Going Pro? Bring It On!
So what brings Pro to the table that makes it worth spending money on? These are the highlights that I discuss here in more detail below:
Flexible File Management: Multiple Catalogs and Sessions
Tethered Shooting with Live View and camera control
Advanced editing with Layers
Expanded Tools: Black & White, Curve, Color Editor
More Tools: Color Balance, Normalize, Film Grain, Process Recipe(s) and Batch
Customizable Workspace
In the sections below I highlight the benefits of each Pro feature mentioned and will refer to more detailed posts when available.
File Management
Briefly, with Capture One Express Sony you have one Catalog. With Pro, you have as many Catalogs as you like as well as Sessions. A Session is a simple but very efficient way to organize each shoot into four folders, the Session Folders. Little overhead but not suitable for managing large collections.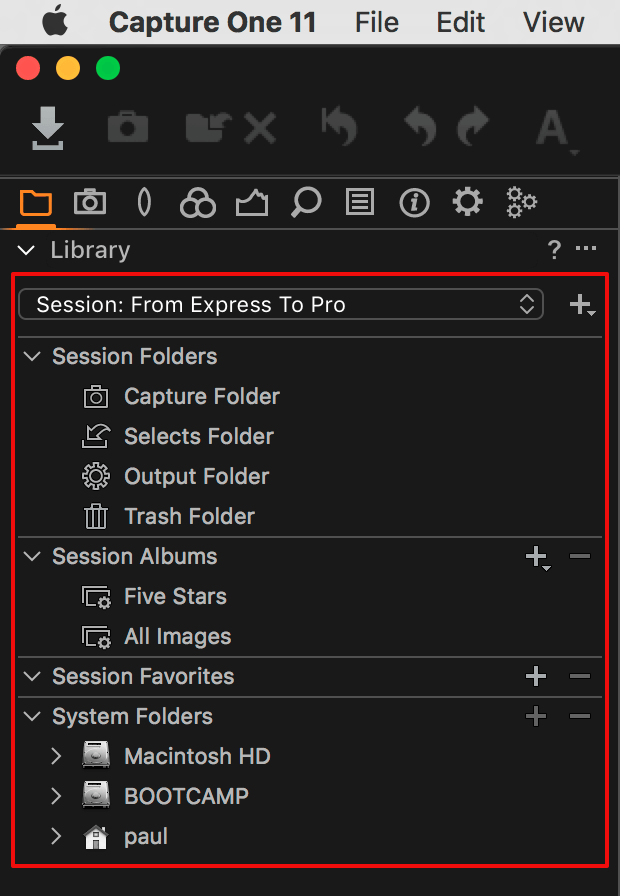 Most of the tethered shooters (see next item) prefer to use Sessions. Another scenario is that of shooting into a Session in the studio or on location and importing the best images into the main Catalog back home.
There is a lot to explore but it is clear that Pro gives you so many options and much likely one that fits your way of working better than Express. In case you like to read more on what Catalogs can provide, start with Catalogs Explained (series of four posts) and work your way up. Same for Sessions; start with Sessions Explained (series of three posts) and continue reading to fill your needs.
Tethered Shooting
For many photographers, tethered shooting into Capture One Pro is the main reason why they use the program in the first place. The camera is connected with the computer via a cable. When shooting tethered you directly save the image from the camera to your computer. You almost instantly see the raw image in Capture One and can check focusing and lighting but also apply adjustments on the fly.
All adjustments can be propagated to successive images. There is a very flexible naming scheme for the incoming images with tokens. The possibilities seem almost endless.
What about Live View from Capture One? Or even better, load the free Capture Pilot app on your iPad or iPhone, hook it up to the local network and view the shots there. You can also remotely control the camera from both Capture One Pro and Capture Pilot.
When you like to get into tethered shooting then there is a series of tutorials for you, starting with Capture One Tethering Explained. The Capture Pilot app is also not forgotten. Read about this companying app to Capture One in Using Capture Pilot With Capture One.
Layers
With Layers, you make local adjustments to your RAW images. This means that you have all the RAW advantages like huge correction latitude plus the flexibility of editing a part of the image. You can change color, contrast, brightness, sharpening, noise reduction, and much more to selected areas.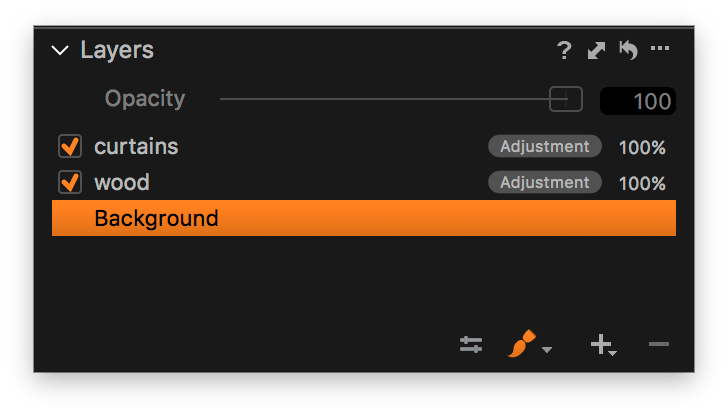 Fixing a color cast due to mixed lighting, toning down a very bright sky without affecting other bright areas, changing color, hue or saturation of a car, cloth, face, brightening a blue shadow and give it a neutral tone: these a just a few of unlimited examples.
In addition to Adjustment Layers, Capture One Pro offers also Clone and Heal Layers to remove objects.
Getting into Layers is like getting into a totally new world of adjusting your images. It does not come to a surprise that I have no less then four posts on this topic available. Start slowly with Capture One Layers Explained and continue reading to catapult yourself in this new realm.
Expanded Tools
Capture One Pro obviously has all the tools that Express Sony offers, plus many more (see next section). But some tools are expanded in Capture One Pro compared to Express. And these extras can give you the power to give your image the edge.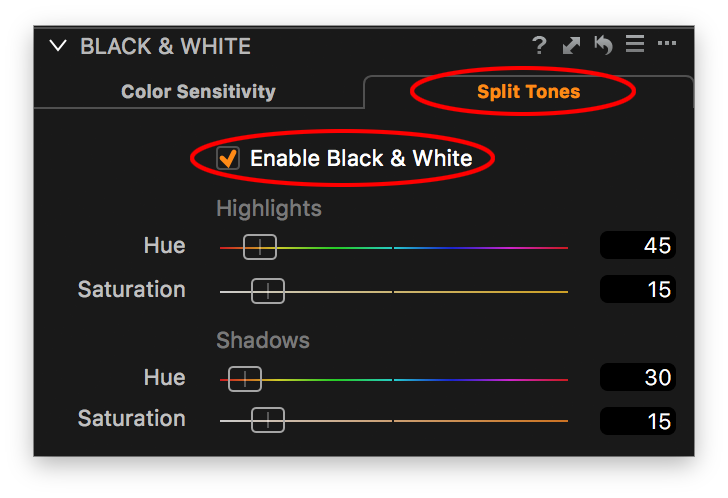 The Black & White tool has a second tab named Split Tones. Here you can color tone your Black & White image separately for the Shadows and Highlights. More on the Black & White tool you find in the post Capture One Black & White.
Both the Levels and Curve tool in Express controls all three color channels Red, Green and Blue simultaneously. With Pro, you can control them individually for either removing a color cast or intentionally introducing it. Start your tour into the secrets of Levels with Capture One Levels (part 1), a series of three parts.
In addition, the Curve tool in Pro has the much-beloved Luma channel, which is adjusting pure luminance only, no color. It is one of the best features that Capture One Pro introduced over the last couple of years! All that is to be knowledgeable about the Curve tool is waiting for you in Capture One Curve (part 1).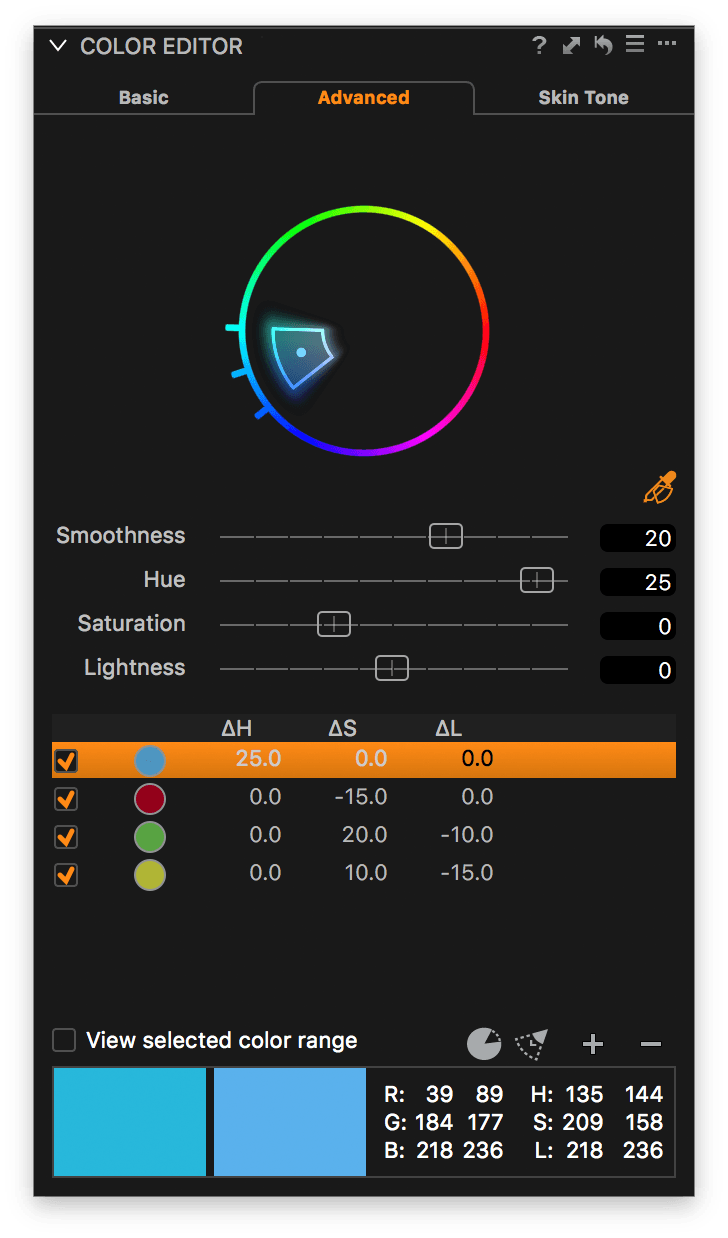 The Color Editor tool in Pro has much more features with the Advanced (most used) and Skin Tone editors. The ability to precisely control a color, either for the entire image or a part via a Layer, regarding Hue, Lightness or Saturation is extremely powerful. But let me not spoil you with all secrets and save some for dedicated reading in Capture One Color Editor.
More Tools
When you switch from Express to Pro you discover some new tools. This can be a bit overwhelming or intimidating at first. Apart from all the tethering tools at the Capture tool tab, you have the Color Balance tool (Color tool tab), Film Grain tool (Details), and the Process Recipe tool (Output) and the Batch tool. Also, a Pro only feature is the brand new Normalize tool (Color) that I explained in my Capture One Pro 11.1 Review.
With the Color Balance tool color toning your color image is a snap. There are separate color wheels for toning your Shadows, Mid Tones, and Highlights. The Color Balance is an advanced tool and you find it all explained in the Capture One Color Balance post.
The Film Grain tool that you can use for both color and black & white images, gives you the film-like touchback, escaping from a too clean digital image.
The ability to create Process Recipes allows you to predefine any combination of processing parameters for any purpose. This is much more powerful than the Export Images > Variants option you are familiar with in Capture One Express. In addition, the Batch tool shows you all images that are currently in the processing queue, where you can stop the queue, and delete images from the queue.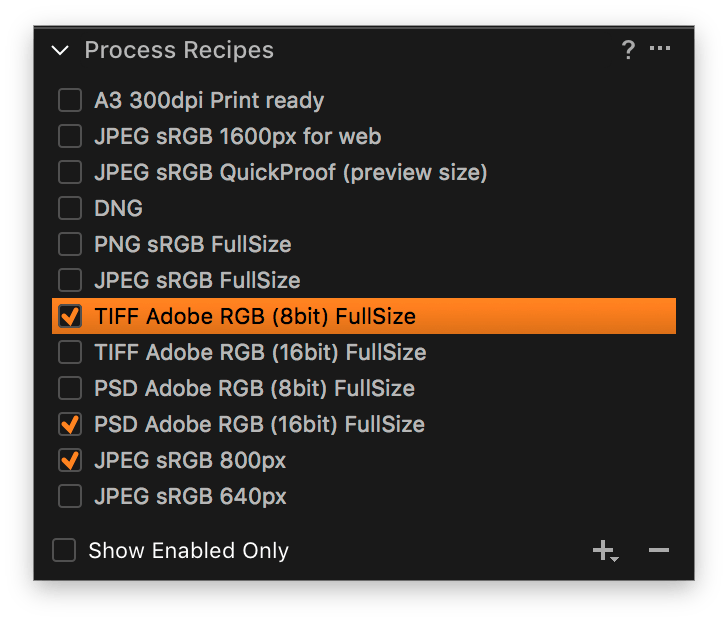 When you select multiple Process Recipes, say for TIFF, PSD, and JPEG, you can process your images simultaneously to all file formats and respective size, output ICC profile and have them stored in different folders.
Okay, there is a lot to discover here as well and I am sure you'll find your way pretty well with help from the post Capture One Process Recipes.
Customizable Workspace
The customizable Workspace rounds up this Pro versus Express review. Where in Express the Tools, Viewer and Browser have a fixed location is the Workspace in Pro fully adaptable to your needs and preferences.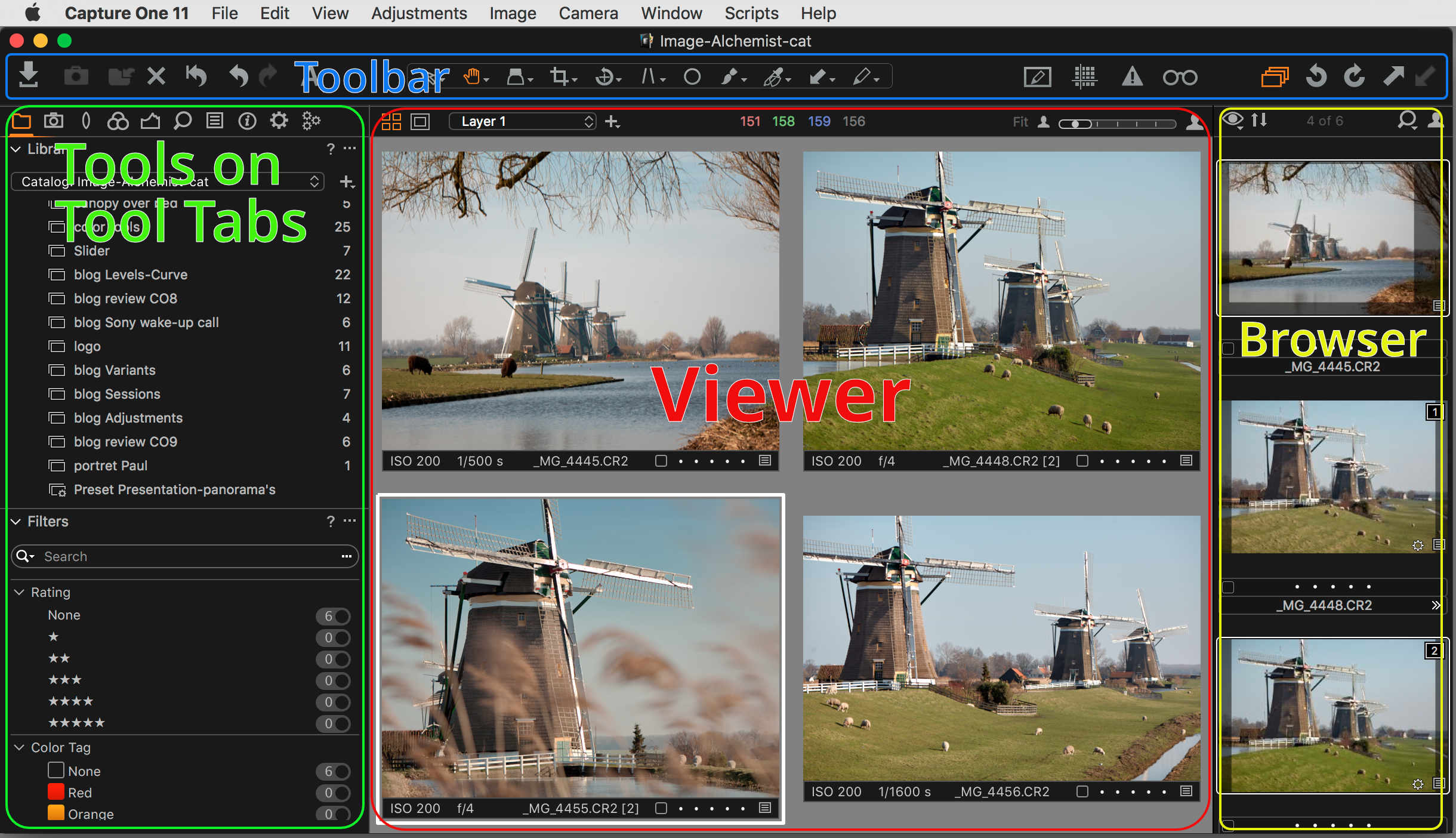 Even more, you can save as many Workspaces as you want to depend on your workflow (capturing, culling, editing, processing) and computer (1 or 2 displays).
A deep dive into Workspaces is waiting for you at Capture One Workspace.
Thank you
For reading. Please feel free to leave a comment. Like us on Facebook or subscribe to our newsletter to stay informed about new blogs.
Want to try Capture One? Or would you like to buy it?
Best Regards,
Image Alchemist
https://imagealchemist.net/wp-content/uploads/2018/05/FlowersInJar-3000px.jpg
2250
3000
Image Alchemist
https://imagealchemist.net/wp-content/uploads/2016/03/IA-logo-full-340x156.png
Image Alchemist
2018-05-01 08:00:57
2020-03-31 14:28:29
Upgrade Capture One Express To Pro Sony