From start to finish you should get the best out of your 30-day Capture One trial. Find guidance here to acquire the insights to be full steam ahead long before the trial ends.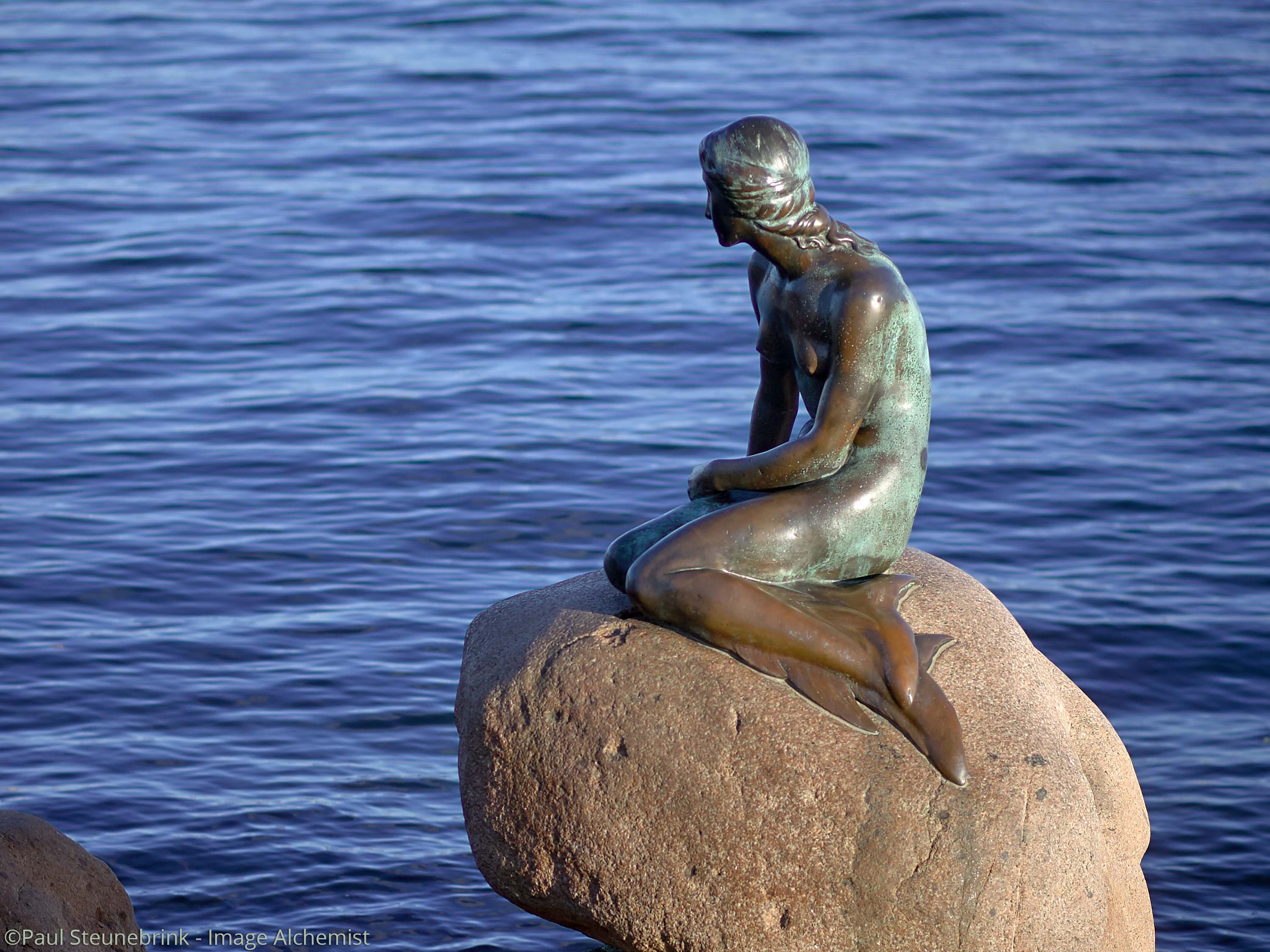 Your 30-Day Capture One Trial
So you decided to download and install Capture One. Your 30-day Capture One trial is running. This trial period is absolutely great to become familiar with the program before you shell out any money. Try before you buy!
However, many of us are busy and easily distracted and before we know the trial period has ended before the fun started. Happens to me all the time.
This post reaches out to any user who starts to get their heads around Capture One Pro. Make your trial period the best you can have!
Tip
During your 30-day Capture One trial continue to use your existing workflow and software for your day-to-day job as you did before. Reserve time to experiment Capture One and start with images you have worked on in the past. Once you feel familiar with Capture One you can start planning the migration.
Installation And Start Trial
When you get the free trial from the Webshop or the Phase One website, you get the download links for Windows and macOS in your mailbox, plus the Release Notes.
In the Release Notes you check whether your camera model raw file is supported (99% chance it is), your lenses and tethered support. It is good to check the system requirements as well.
Install the program with the installer onto your computer's hard drive. Do not attempt to run the program from the installer.
When you start Capture One, choose Pro. If you have a Sony camera and no other camera brands, choose Pro (for Sony). The features are identical but the Sony version is limited in camera support and much cheaper!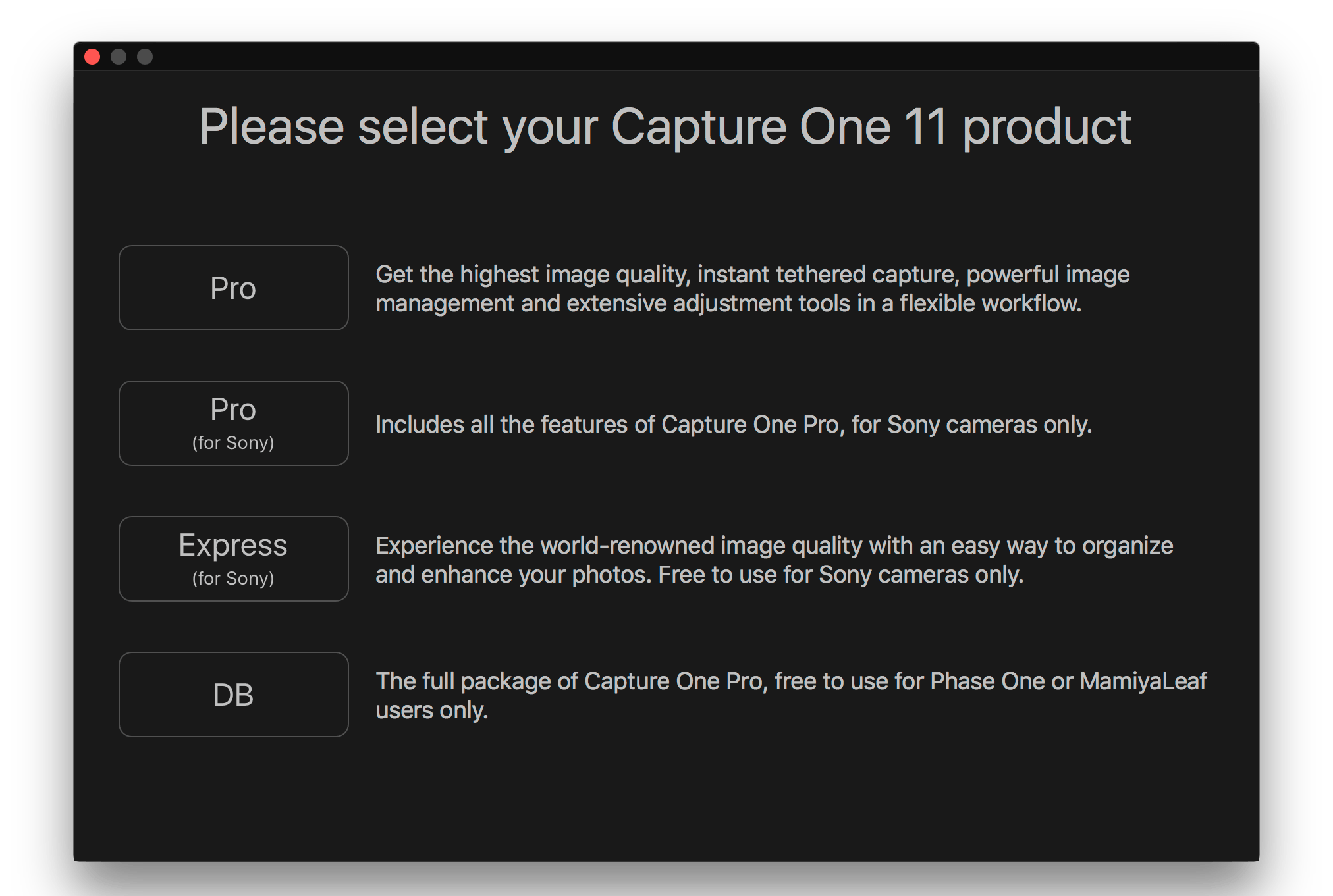 After your confirmation, the 30-day Capture One trial starts. You just learned that from a single download you can run Capture One in four different modes. The Pro-mode is the most extensive and offers you a trial period.
If you are interested please read Capture One Modes for more details.
Background Information
As soon as you start working with your 30-day Capture One trial, you learn new terms like Session and Catalog, different types of Variants but also Workspace and Tethering. What do these terms mean?
Sessions And Catalogs
There are two ways to organize images in Capture One Pro, Sessions and Catalogs. Do not let confusion get you off your track. Start your discovery with either a Session or a Catalog, not both at the same time. It is not a one-time choice, you are free to go any time.
If you are a Lightroom or Aperture user, you probably are most interested in Catalogs because they are similar to the Lightroom Catalog and Aperture Library. Studio shooters, who often work with the camera connected (tethered), prefer Sessions.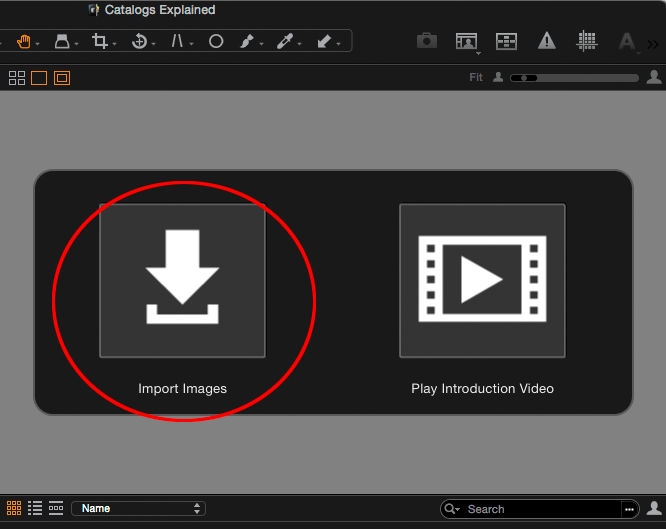 I suggest you take a look at the blog Catalogs Explained, which is the first of a series of four, and continue later on depending on your needs.
In case your curiosity drives you to Sessions, there is a similar series of posts starting with Sessions Explained to cover your needs.
Tip
With a Session, you have the ability to browse your images in the folders on your disk without the need to import them. No organization overhead, just plain and simple.
Variants
In Capture One you can have different variations of a single capture or image file. Capture One treats these variations like distinct images. Therefore Capture One introduces the new term Variant. Each thumbnail in the Browser and each preview in the Viewer is a Variant.
Variants in general, the Primary Variant and the Compare Variant are different examples of the use of the term Variant. Understanding what they mean helps a lot in working with Capture One Pro.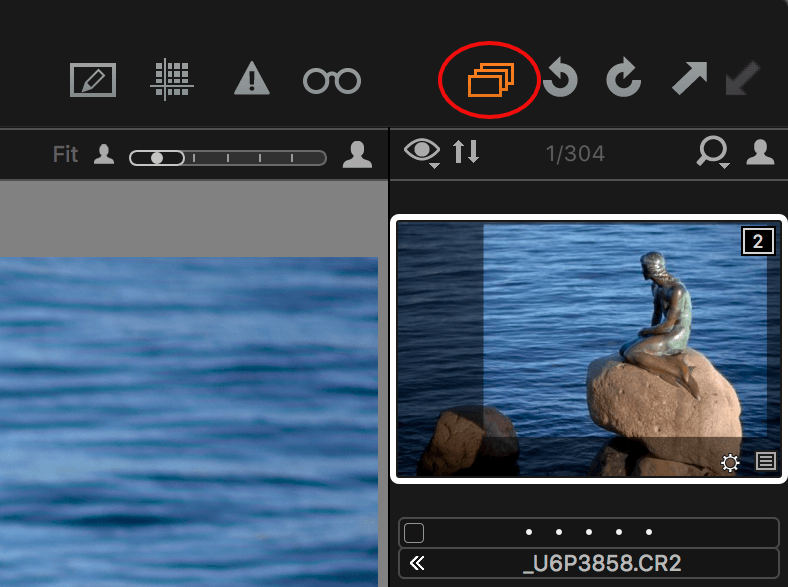 The concept of Variants plays an important role throughout the program and in particular when copying adjustments from one image, ahh Variant, to others.
In the program, there is a toggle Edit All Selected Variants and this unique feature is where starters have the most questions about.
You read it all in the post Capture One Variants. Easy to understand, highly recommended.
Workspace
The Workspace is the user interface of Capture One. The Toolbar, Tools, Viewer, and Browser together create the Workspace.
However, unlike other programs, the Capture One Workspace is highly customizable. There are built-in Workspaces in the Window menu.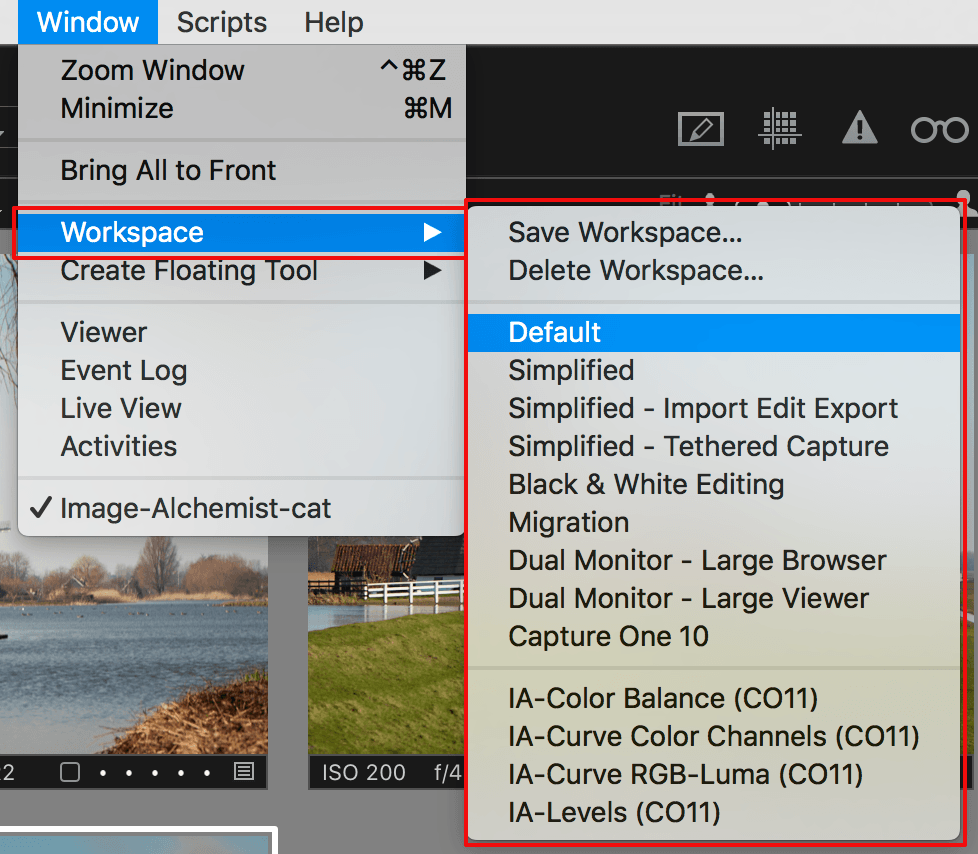 Learning the different parts of your Workspace can significantly help you to become familiar with the program. In Capture One Workspace you learn just that.
Tethering
Also known as tethered shooting, tethering is one of Capture One Pro's key selling points. It is fast, flexible and includes pro-like features like Live View and Remote Control.
On tethering with Capture One I have a series of posts that start with Capture One Tethering Explained.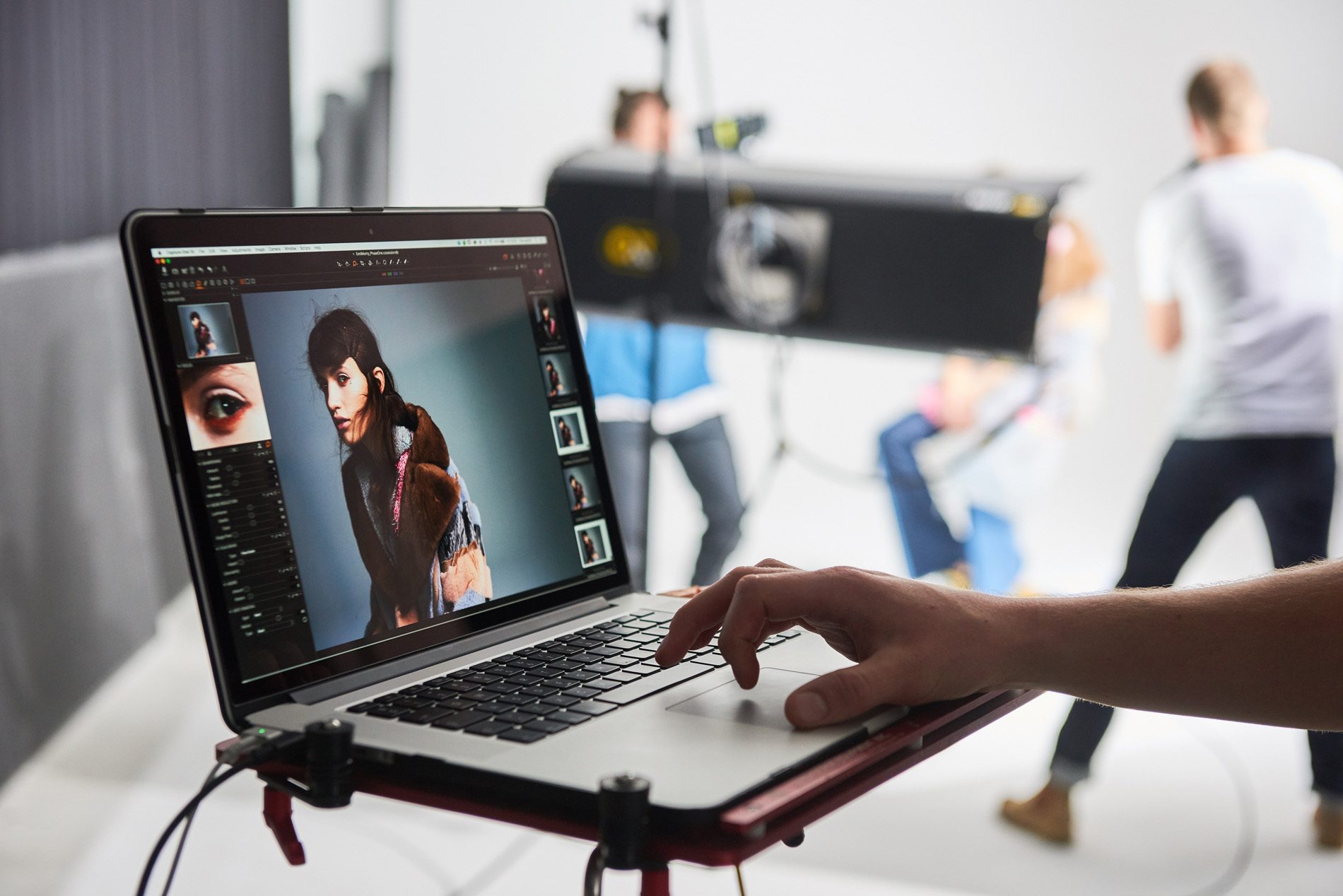 But it does not end there. Remote viewing and control via Capture Pilot on your mobile device is another gem of Capture One. You find it fully covered in Using Capture Pilot with Capture One.
Skip it if you shoot to card only, but when shooting over a wire this reading is highly recommended.
Importing Images
I suggest you start working with Capture One Pro on a try-and-learn basis. Make a Catalog or Session on your internal drive, and start importing some existing images.
I wrote a comprehensive post named Importing Images Into Capture One. I am sure that once you covered that you will make no mistakes.
When you work with a Catalog it is important that you leave the existing images in their Current Location as it is called in the import dialog assuming that you work on images that are already on your disk.
With a Session, I suggest you just browse to the folder with images on your disk or import to the Capture folder of the Session.
And when you import new images from a memory card, follow the instructions in the post I just mentioned.
Lightroom Library Import
You can import a Lightroom Catalog or Aperture Library into a Capture One Catalog. There is a special import option for that. Image adjustments are estimates, rating and tagging are transferred, as Albums but not Smart Albums.
If you like to try that, export a smaller catalog or library and import it in your trial Catalog. Review the images, their edits, metadata, and collections.
Rating, Tagging, And Selecting
After import, I always first browse through the thumbnails in the Browser. Those I like most I give a Star Rating. The numerical keys 1-5 are easy shortcuts. Others prefer Color Tagging, which is possible as well.
You can rate and tag via the Adjustments menu, just below the thumbnail and below the preview in the Viewer and by using keyboard shortcuts.
To exclude other images and look only to the rated or tagged images, use the Filters tool on the Library tool tab.
You can also create User Collections. I discussed that in Catalogs Continued and Sessions Continued.
Adjusting Images
Now that you have selected the best images, you want to adjust them to make them even better. Your most used options for adjusting your images are the tools on the Exposure and the Color tool tab.
The order in which the tools are listed on the tool tabs has a logic behind them. Use them in that order and you automatically go from easy to advanced.
On the Exposure tool tab, I recommend the tools Exposure and High Dynamic Range. Your main tool on the Color tool tab is  White Balance.
Edit With…
Capture One has the capability to export an image and open the result in an external editor (Photoshop and others) while saving the export in the Catalog or Session as well. After changes are saved in the external editor the thumbnail and preview of the image are updated in the catalog to reflect the changes.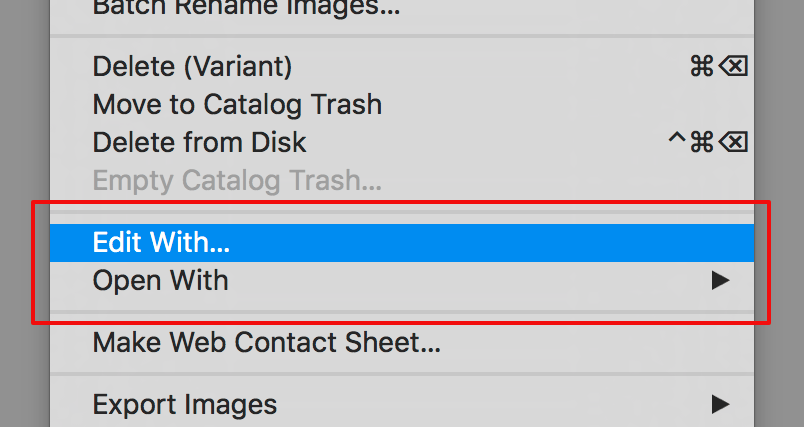 Successive changes to the processed images are done with the Open with command. You find both Edit with… and Open with commands by right-clicking on your thumbnail.
More on these commands you find in the Capture One Pro 8.1 Review as this feature was added in that release.
Export Your Images
Initially Capture One Pro could only Process images according to what you define in Process Recipes. A very powerful workflow with all the bells and whistles you can think of.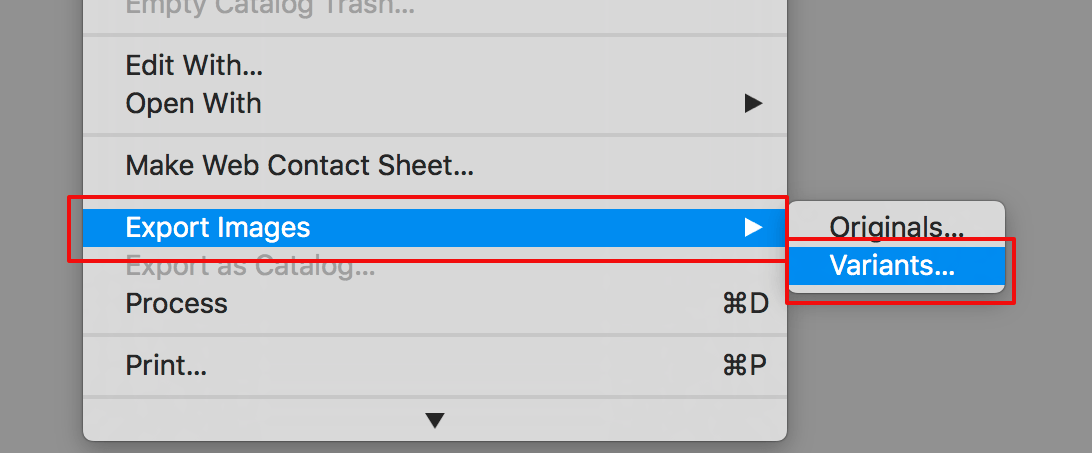 Over the years, Capture One Pro offered the simpler Export option. It gives the same image quality, almost all options but no Process Recipes and no Batch Queue. And what a coincidence: Lightroom uses Export as well!
Please go for the File menu > Export Images > Variants option. For an overall view on the Export feature please refer to my post Capture One Export.
Local Adjustments With Layers
Capture One has extensive capabilities for local adjustments via Layers with Masks. Almost all relevant tools work on Layers. There are several Mask and Brush options.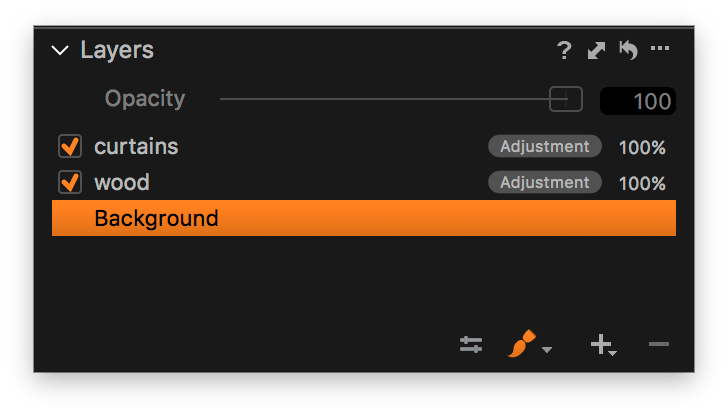 If you are familiar with local adjustments in another raw workflow product, you like to use it in Capture One as well. I advise you to read Capture One Layers Explained to get started.
Other Resources
There are a few great posts at the Phase One blog site that can help too.
Do you know some more? Please let me know, thank you!
Buying And Activating
Was this helpful and would you like to support Image Alchemist? Consider buying your license in the Webshop.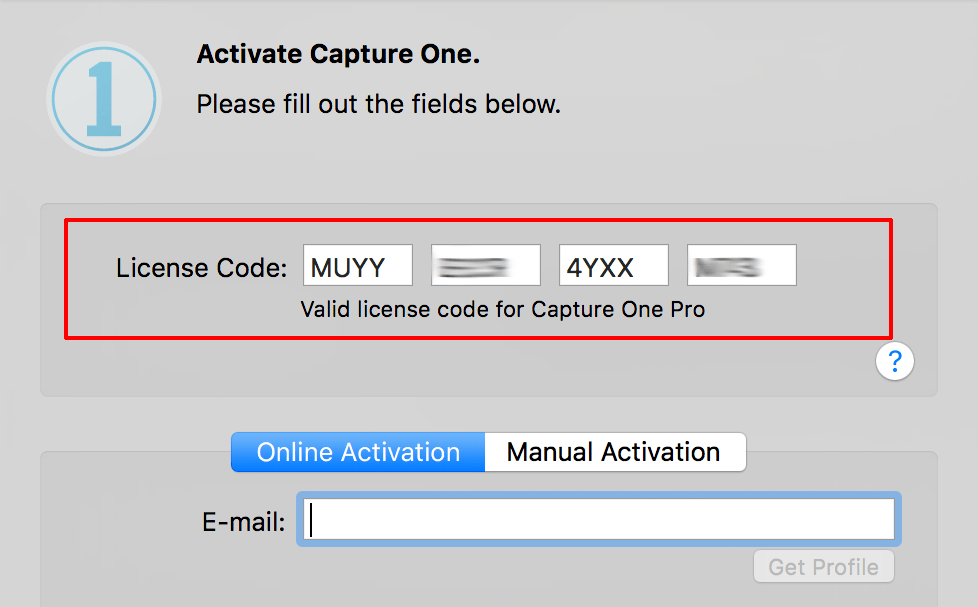 Once you have a license key for Capture One Pro, you need to activate your installed copy with the key. You find a clear description of this rather straightforward process in Activating Capture One Pro.
If you still have any questions, do not hesitate to contact us. We are here to help you to become a true CaptureOnist.
Migration Scenarios
If you were running a similar product as Capture One like Lightroom or Aperture, you are interested in how to get from A to B. There are three potential migration scenarios I can think off:
totally move over from Lr to CO first before you continue now or in the long run (see next scenario)
keep Lr with your current images as is, start with CO for new images (you can always decide later to import old images from your Lr libraries if you please, see the previous scenario)
work out a coexistence scenario of Lr and CO were you keep using both for old and new images all your future steps depend on the migration scenario
I think it takes time to fully work out what works best for you.
Thank you
For reading. Please feel free to leave a comment. Like us on Facebook or subscribe to our newsletter to stay informed about new blogs.
Want to try Capture One? Or would you like to buy it?
Best Regards,
Image Alchemist
https://imagealchemist.net/wp-content/uploads/2018/04/MermaidCopenhagen-3000px.jpg
2250
3000
Image Alchemist
https://imagealchemist.net/wp-content/uploads/2016/03/IA-logo-full-340x156.png
Image Alchemist
2018-03-31 08:00:37
2020-03-31 14:17:20
Your 30-Day Capture One Trial